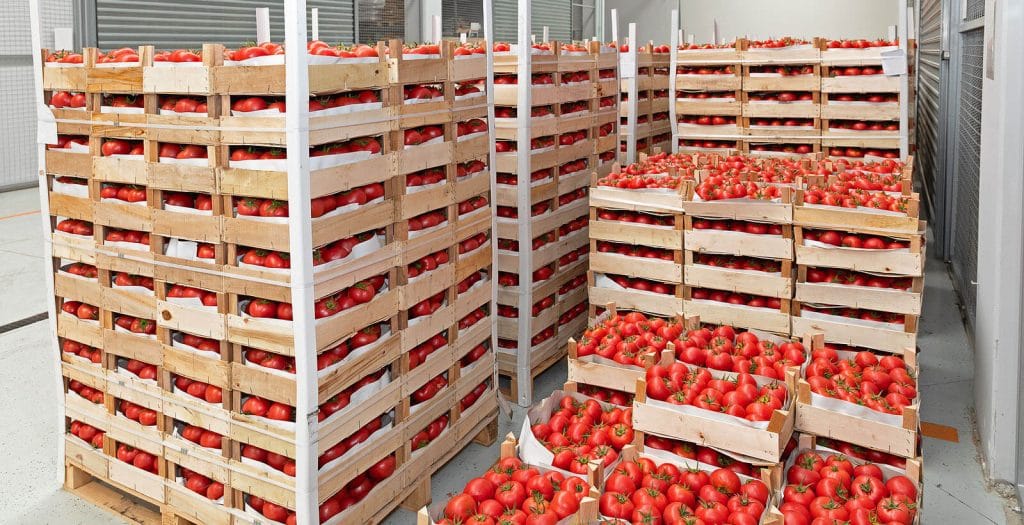 Fruits, vegetables, and other perishable agricultural products require special considerations when preparing for shipment. Wrapping tension, type of shrink wrap, and ventilation are just a few of the many things that will help keep your crates of produce safe during transport.
Handle It offers a wide range of semi and fully automatic pallet wrappers for the agricultural industry. We also carry many accessories that will add value and improve the efficiency of your produce farm or feed mill shipping department.
Benefits of Pallet Wrappers for Agriculture Industries
Regardless of whether you're a small co-op farm or a large agricultural conglomerate, Handle It pallet wrappers provide a variety of benefits, such as:
Reduce damaged and lost products
Improve efficiencies
Lower packaging material costs
Reduce shrink wrap usage
Specialized breathable shrink wrap
The Model 800 semi-automatic stretch wrapper is ideal for operations that ship out 15-20 pallets per day. It comes with a user-friendly control panel, 3-year warranty, and 18 user-programmable wrap programs.
If your facility ships out more than 20 pallets per day, the Model 850PS has many customizable features at a reasonable price. The 250% power pre-stretch feature can help reduce your shrink wrap costs by up to 60%.
Learn More About Pallet Wrappers
Agriculture Industries
Countless agricultural industries can benefit from a semi or fully automatic shrink wrap machine:
Hops and barley farms
Cannabis farms
Fruit farms
Vegetable farms
Flower farms
Ingredient growers (spices and herbs)
Co-ops
Organic farms
Planet nurseries
Guard Rails for Agriculture
Warehouses and shipping departments are a hustle and bustle of worker and forklift activity. Due to the confined floor space, it's easy for a forklift operator to accidentally bump into a worker, pallet, or crate of delicate fruits and vegetables. 
Handle It guard rails put a bright yellow metal barrier between the forklifts, workers, and products. They can help improve safety in areas such as:
Forklift driving lanes
Shipping and packing departments
Pedestrian walkways
Warehouse rack aisles
Pallet racking
Rack Protectors for Agriculture
End of Aisle Guards and Rack Protectors from Handle It will help protect your warehouse racks from accidental damage or collisions with motorized vehicles. The overall cost of adding this important safety feature pales compared to the loss of product and replacement of warehouse racks should an accident occur.
Handle It rack protectors will shield your product and agricultural products from pallet trucks, vehicles, and forklift impacts. Our End of Aisle Guards are built out of heavy-duty 0.375" thick steel that can withstand the extreme forces of a forklift or other vehicle accident.
Learn More About Rack Protectors
Breathable Film for Agriculture
Some agricultural products can "choke" when wrapped in traditional shrink wrap. Handle It Breathable Film has hundreds of thousands of tiny holes that allow your produce and vegetables to breathe while in transit. 
Pallet Wrapper Accessories for Agriculture
Handle It carries a versatile line of pallet wrapper accessories to enhance your pallet wrapping experience, help you gain efficiency and improve operator safety. Including scales, printers, ramps, anti-static brushes, safety fencing, light curtains, film and other equipment, there are a multitude of options to choose from.
Learn More About Pallet Wrapper Accessories
Case Study: Agricultural Pallet Wrapper
An onion and garlic grower needed an efficient way to wrap 50-60 pallets per day. As the business grew, manual hand wrapping of pallets became cumbersome and fraught with human error. 
Handle It provided the grower with a semi-automatic pallet wrapper that could safely and efficiently wrap their irregularly-sized pallets using a breathable shrink wrap film. Read more about this case study.