Automatic Orbital Wrappers
Automatic horizontal orbital wrappers automatically load products for bundling; they thread, wrap and cut the stretch film.
Choose from one of several models of varying sizes below and click on the one that best fits your needs.
Not sure which model is right for you? Contact one of our Orbital Wrapper experts
Contact an Orbital Wrapper Expert
What Are Automatic Orbital Wrappers
Automatic orbital wrappers enable horizontal loading of products of varying sizes for bundling with stretch film. An operator is not required and these machines are used for large products or high-volume manufacturing or warehousing.
Handle It's Automatic Orbital Wrap Machine Options
| Model | FA-50 | FA-90 | FA-125 | FA-160 | FA-200 | FA-250 |
| --- | --- | --- | --- | --- | --- | --- |
| Opening Size | 50 cm, 19.685 in. | 90 cm, 35.433 in. | 125 cm, 49.213 in. | 160 cm, 62.992 in. | 200 cm, 78.740 in. | 250 cm, 98.423 in. |
| Stretch Film Width | 4″ wide | 6.5″ wide | 10″ wide | 10″ wide | 10″ wide | 10″ wide |
| Fits Product Width | ~485 mm (~19″) | ~875 mm (~34″) | ~1220 mm (~48″) | ~1585 mm (~62″) | ~1985 mm (~78″) | ~2485 mm (~97″) |
| Product to Wrap Sizes (Maximum / minimum length | unlimited / 19.6″(500 mm) | unlimited / 19.6″(500 mm) | unlimited / 23″ when the infeed conveyor enters the loop (15.75″ with driven bridge). | unlimited / 23″ when the infeed conveyor enters the loop (15.75″ with driven bridge) | unlimited / 23″ when the conveyors enter the loop 15.75″ with bridge) | unlimited / 23″ when the conveyors enter the loop (15.75″ with bridge) |
| Minimum Sizes | 7.87″(200 mm) x7.87″(200 mm) x 19.6″(500 mm).[L] Recommended driven conveyor specifications: | 7.87″(200mm) x7.87″(200mm) x 19.6″(500 mm).[L] Recommended driven conveyor specifications: | 11.8″(300mm) x 11.8″ (300mm) x 23″ (600 mm) [L] | 14″ x 14″ x 23″ (L) | 15.75″ x 15.75″ x 23″.(L) | 23″ x 23″ x 23″ mm.(L) |
| Power Supply | 110v | 400V III+N | 400V III+N+G | 400V III+N+G | 400V III+N+G | 400V III+N+G |
| Dimensions | ––– | ––– | ––– | ––– | ––– | ––– |
| Rotation Speed | 5-180 RPM | 5-100 RPM | 5-80 RPM | 5-80 RPM | 5-55 RPM | 5-45 RPM |
| Applications | moldings, blinds, shelves, kit furniture, etc. | furniture, doors, wood panels, cabinets & windows | furniture, doors, panels, wooden boards, cabinets, windows, bulky products | furniture, doors, panels, wooden boards, cabinets, windows, bulky products | furniture, doors, panels, wooden boards, cabinets, windows, bulky products | furniture, doors, panels, wooden boards, cabinets, windows, bulky products |
Review the chart below to choose the proper size wrapper for your products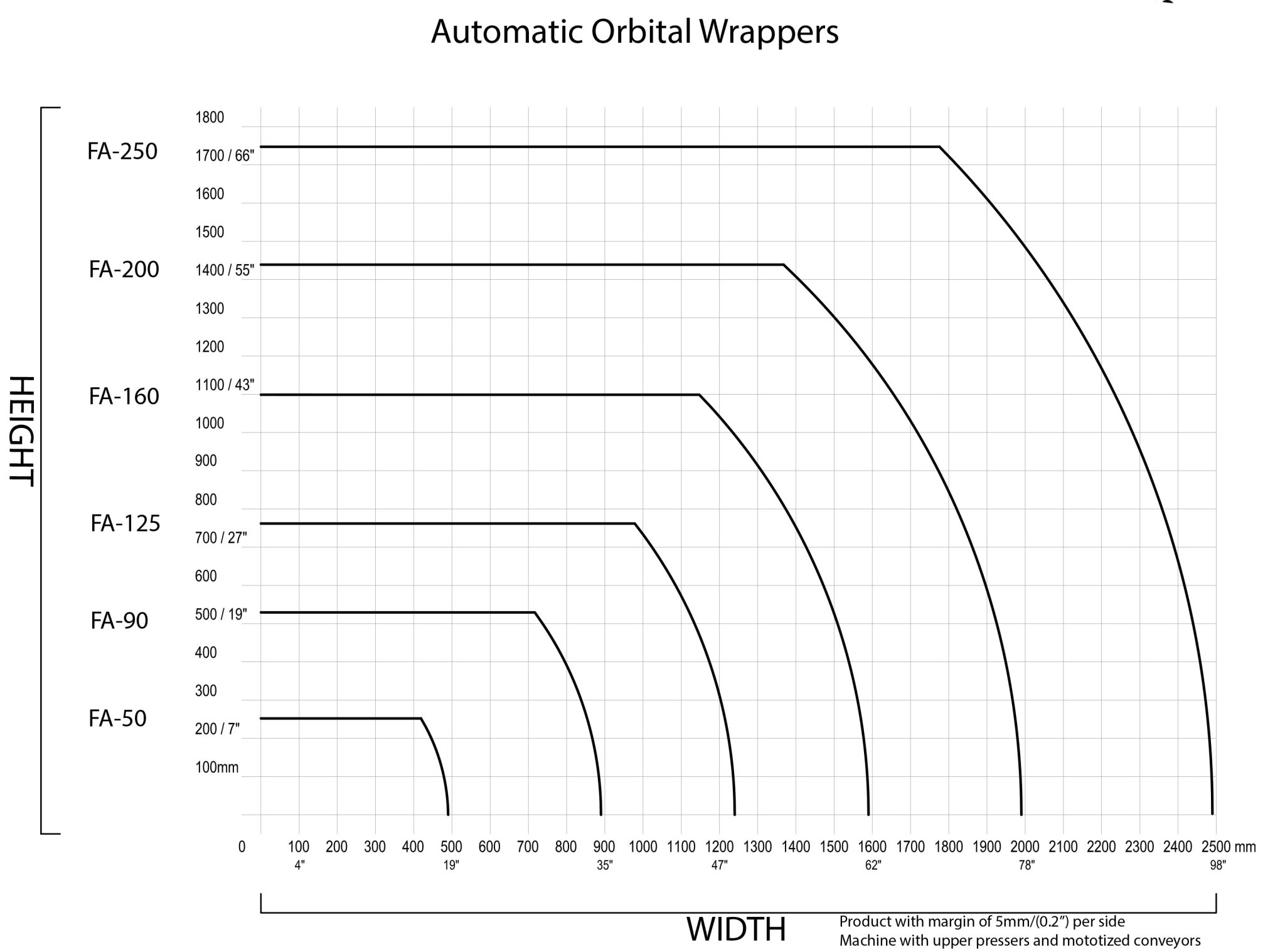 ×
Quality
Designed and manufactured in Europe
Final assembly, testing, and programming in Milwaukee, WI
ISO 9000 Certification
CE compliant
Utilize high quality components
We test and pre-program every machine prior to shipment
Showing all 7 results