Stretch Wrapping Pick and Pack Mixed Products on Pallets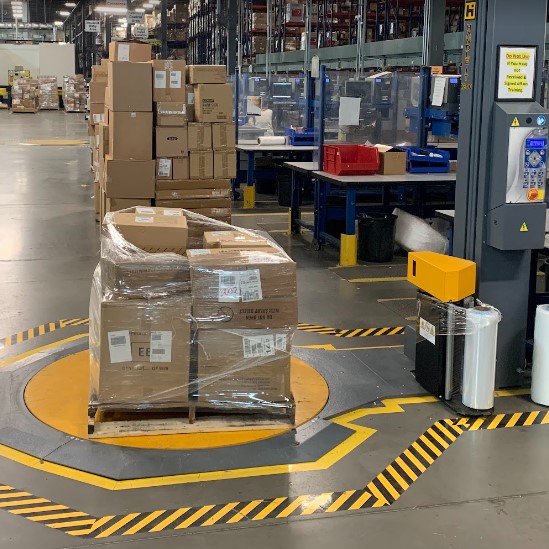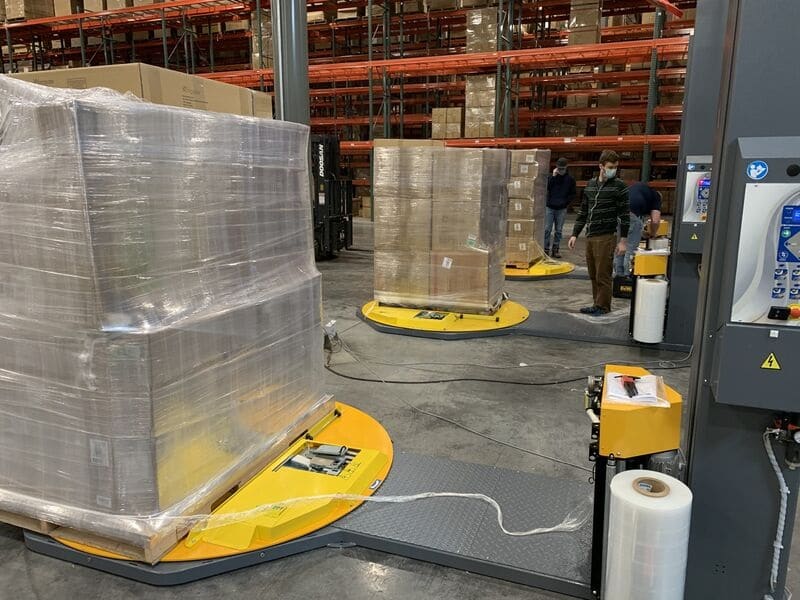 Wrapping pallets of pick and pack mixed products by hand often leads to spilled or damaged products during transport. A semi-automatic pallet wrapping machine from Handle It will provide a safe, secure, and consistent wrap. With the ability to wrap up to 300 loads per day, you'll save time and money while preventing worker's comp claims due to workers suffering from repetitive motion injuries.
Handle It stretch wrappers offer a wide range of standard features that will improve efficiencies when stretch wrapping mixed pick and pack product on pallets:
Storage of up to 32 end-user programs
Up to 250% power pre-stretch
118″ maximum load wrap height
User-friendly control panel
Ability to wrap up to wrap heavy, unstable, or tall loads
Safer and easier loading and unloading
Pro Tips
Here are several Pro Tips that will help you properly stretch wrap mixed pick and pack products on pallets:
A great starting point is a cycle with 2-3 top and bottom rotations with a film tension of around 50% for average pallet loads.
On initial setup, try slower speeds and less tension, and work your way up to optimize cycle time and load containment.
If you have sharp product edges, try lower film tension and rotation speed or consider a thicker, more puncture-resistant film.
For outlier products at the top, try increasing the overwrap delay or "flanging" time along with top rotations to make sure you get the film band high enough to catch the top layer. This can be especially helpful with pick and pack operations when the top of the pallet might have a few boxes in the center of the stack.
If you have empty spaces or voids, try either increasing the flanging time or trying the fixed height setting available on the model 1100.
Watch the Model 1200UL in action as it wraps a pallet of mixed boxes:
RELATED INDUSTRIES
The below industries can benefit from the many features of a Handle It semi-automatic stretch wrapping machine.
Help ensure the safe transport and delivery of your pick and pack mixed products to retailers and other big-box stores. Plastic wrapping mixed box pallets can help reduce the chances of damaged merchandise while in transit.
Logistical and warehouse operations receive and devan countless pallets every day. Wrapping pick and pack mixed box pallets with a pallet wrapper will keep the shipment safe until it reaches its final destination.
Ensure the secure transport of your customer's pick and pack mixed products with a fully or semi-automatic pallet wrapping machine. The 250% power pre-stretch allows for up to 50% savings in stretch wrap usage.
Handle It pallet wrappers can alleviate the manual labor required to wrap mixed box pallets at your manufacturing facility. Regardless of size, shape, or weight, you can securely wrap your pallets for shipment with precision and consistency.
HELPFUL RESOURCES
Learn more about Handle It stretch wrappers and accessories through the following resources:
Accessories & Safety Essentials
Pallet Wrappers to Match Your Application
Handle It has a wide range of fully automatic, semi-automatic and mobile robotic pallet wrappers that come with many features that will allow you to improve your shipping efficiency while properly securing your pallets for transport.
Don't see your industry? Unsure which machine is right for your application? Give us a call or contact us, and one of our friendly experts will work with you to find the best solution.