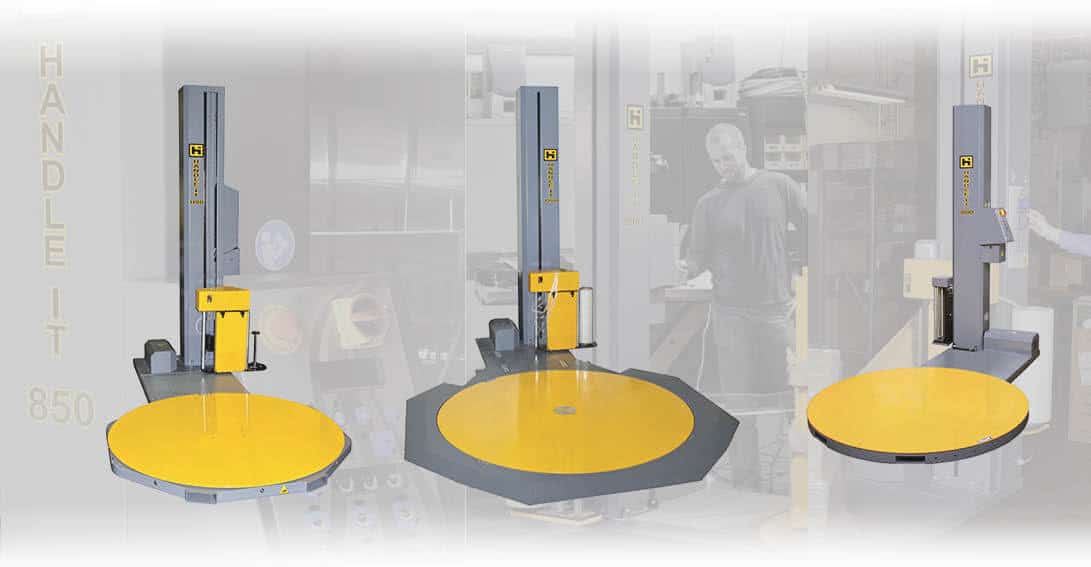 A pallet wrapping machine is no different than any other piece of industrial equipment. It requires regular maintenance to ensure long-lasting performance and reduced downtime due to mechanical breakdowns. It can also help prevent operational errors, which can lead to damaged goods.
The alternative to not planning service comes at a considerable cost—the machine will prematurely break down (regardless of make or model), and that will require a $120/hr. (plus travel time) technician to come out and repair/clean/replace broken parts. An average service call can cost upwards of $1,000 for repairs and parts, potentially leading to several days to a few weeks of machine downtime.
Read on to learn more about how to perform pallet wrapper maintenance to ensure safe operation and long life for your machine.
Note: This entire guide is brand agnostic, meaning that you don't have to own a Handle It pallet wrapper to benefit from the advice. However, if you happen to be the proud owner of one, we'll provide you with a detailed checklist and downloadable PDF on exactly how to perform model-specific maintenance.
General Pallet Wrapper Maintenance
First thing's first. Unplug the machine from the power outlet and clean out any debris from around and under the pallet wrapping machine. Over time, pieces of stretch film, chips of wood from pallets, and trash will eventually find their way in and underneath the machine. Loose material and mechanical moving parts do not mix very well.
Perform a Visual Inspection
Once you've cleaned up any loose debris, perform a visual inspection of the machine. Are there any obvious signs of damage to the mechanical parts or cabling? If so, tag it and call a repair person immediately.
Look at the rollers and other moving parts. Strands of shrink film waste can get wrapped around them and cause the bearing and machine to strain under operation. This can lead to blown fuses and a shortened motor life.
Inspect and Clean the Sensors or Photocells
Dirty photocells and sensors can lead to improperly wrapped loads that can damage products or create spills during transport. Depending on your specific pallet wrapping model, the sensors may be located in an out-of-the-way spot. Take a damp cloth, gently wipe it down, and remove any dirt buildup.
Pro Tip: Avoid using harsh chemicals or cleaners as they might damage or cloud the glass/plastic sensor housing unit.
Drive Maintenance
The drive system on your stretch wrapper could utilize belts, chains, or a combination of the two. Refer to the user manual and use the proper lubricant to ensure smooth and reliable operation. Avoid over lubricating as it can cause splattering, fouling, and dirt accumulation in other areas over time.
This is a good time to inspect the chain or belt for tension and wear. If you notice signs of degradation, immediately tag the machine and order a replacement part. Any damage can result in a ticking time bomb that will cause expensive repairs or severe worker injuries.
Pro Tip: If you don't have a spare belt or chain in stock and your current one is working just fine, now is a great time to order a replacement. It will save you considerable time and money when you need to replace it.
Lubrication
Generally speaking, most pallet wrapping machines have two different lubrication points. Refer to your owner's manual for the exact location(s) and approved lubricant.
Avoid using non-recommended products as they may not have the correct formulation to ensure consistent performance and long life. Try to avoid over-lubricating as it can cause the grease to splatter and accumulate on other parts.
Perform a Test Wrap
Once you've performed a thorough cleaning, visual inspection, and lubrication, have one of the workers load up a pallet and run a wrapping cycle. Listen carefully for any unusual noises that could indicate something is amiss.
Pro Tip: Now is a good time to ask the work team if they've heard or seen anything out of the ordinary since you last inspected the machine. You can also take a few minutes to remind them of the procedures needed to operate the pallet wrapper safely. Prominently posted safety signs often become part of the visual background noise, and it never hurts to remind workers to keep a constant vigil.
Maintenance Checklist for Handle It Pallet Wrappers
Before you perform maintenance on your Handle It pallet wrapping machine, disconnect it from the power source.
Below you'll find the recommended and model-specific maintenance tasks.
Perform a visual safety inspection and maintain a clean operating environment free of debris.1
Daily
Check operation of E-Stop, control devices, and carriage safety switch.1
Once a Month
Visually inspect upper and lower limit switches for carriage travel.
Once a Month
Visually inspect proximity sensor for turntable rotation. [Traction Sensor for SWM-MR-3000]
Once a Month
Visually inspect the photocell and ensure that it is centered and support brackets are tightened.1
Once a Month
Visually inspect the plug and insulation of the main power cable.1
Once a Month
Grease the carriage guide rail using gear and chain grease.3
Every 3 months
Grease the turntable drive chain using gear and chain grease.2
Every 3 months
Grease the rack and pinion for carriage travel with gear and chain grease.1
Every 3 months
Check the tension of the turntable drive chain. Tighten if necessary.2
Every 3 months
Inspect the turntable rollers and replace if necessary.2
Every 3 months
Inspect and grease gear train for turntable rotation.4
Every 3 months
Follow the charging procedure prescribed in the machine's manual.5
As Needed
1 All machines
2 Turntable Style Machines
3 SWM-SA-0600 only
4 SWM-SA-1200UL only
5 SWM-MR-3000 only
Download Handle It's Maintenance Checklist
Click here to download a printable version of the above Handle It maintenance checklist.
Learn More About Handle It Machines
Handle It offers several different automatic and semi-automatic stretch wrap machines that can help your shipping operation improve efficiency and cut down on shrink wrap waste. Contact us below to learn more.
Learn More About Handle It Machines
BACK