Feltz Tire, based in Marshfield, WI, has a unique business model. They procure used military vehicle tires, primarily from Humvees, and resell them to the general public. These tires have an aggressive tread ideal for older model pickup trucks, skid steers, custom off-road rigs, and farm trucks.
Even though Feltz Tire's prices are competitive, they struggled with unpredictable shipping costs and logistics. Less than truckload (LTL) and UPS deliveries would often get hit with extra charges, creating operational inefficiencies for the company.
Feltz Tire partnered with Handle It to address these challenges and streamline its packaging process with our C-Style Orbital Wrapper.
The Challenge: Shipping and Labor Pains
It usually makes sense to ship LTL when a customer buys four tires. The problem occurs during the last-mile delivery. If the buyer is in a residential neighborhood, they either can't receive an LTL shipment or get hit with additional charges for delivering to a non-commercial location.
Shipping costs, particularly for residential deliveries, were unpredictable due to varying classifications of what constituted a commercial or residential address. Feltz Tire often found themselves fighting with carriers on these additional charges.
UPS is the preferred method for shipping less than four tires. However, UPS would levy an additional $120 charge per tire if the size exceeded 30" x 36" x 11" H. By hand wrapping the tires, Feltz could sometimes reduce the dimensions enough to avoid this charge.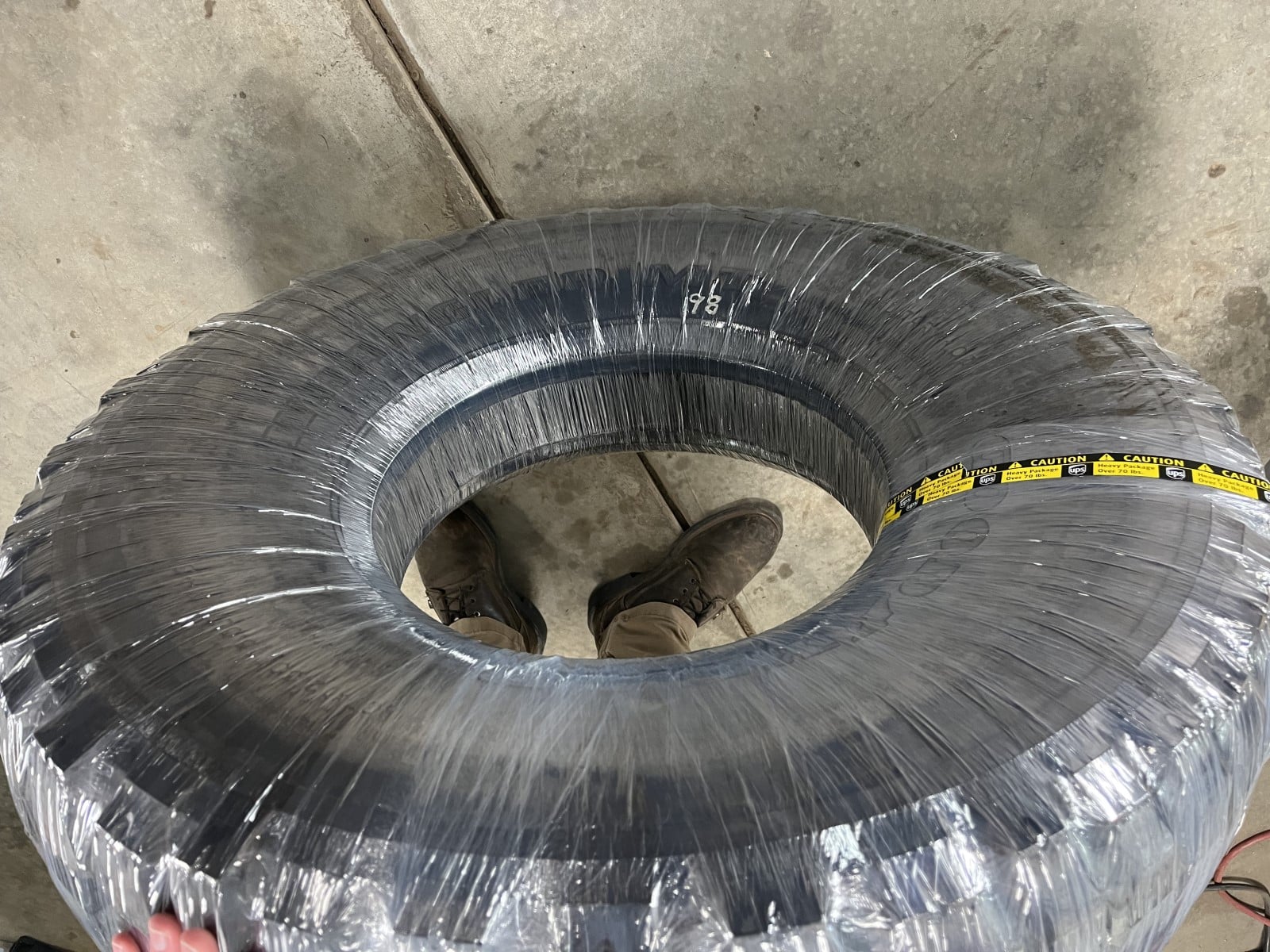 However, hand wrapping was inconsistent, labor-intensive, and led to physical strain for the employees. The manual wrapping process also consumed vast amounts of film and took approximately 6-7 minutes per tire.
The Solution: Handle It C-Style Orbital Wrapper
Feltz Tire realized they needed a more efficient and cost-effective way to wrap and secure their tires for shipping. After much research, they chose the Handle It C-Style Orbital Wrapper to solve their wrapping challenges.
What is a C-Style Orbital Wrapper?
An Orbital Wrapper (also known as a ring wrapper, horizontal wrapper, or ringer) is a machine that wraps products in a horizontal orientation. The term 'ringer' comes from the ring-like structure through which the product passes for wrapping.
It's highly versatile and ideal for securely and consistently bundling long, narrow products such as wood moldings, rolls of carpet—or in Feltz Tire's case, tires.
Handle It also offers both semi-automatic and automatic orbital stretch wrap machines. The semi-automatic version is suitable when there's a worker to operate it, while the automatic version is perfect for busy production lines where manual operation isn't possible.
Watch the C-Style Orbital Wrap Machine in Action
Click the video below to see the C-Style Orbital Wrapper expertly wrap a Humvee tire.
C-Style Orbital Wrapper Features & Benefits
Labor Savings and Efficiency—The Handle It C-Style Orbital Wrapper saves time and labor costs compared to manual wrapping. It ensures consistency and protects the surface of the products during shipping. The automatic variant is especially beneficial in high-volume operations, as it eliminates the need for manual handling, increasing speed and efficiency.
Flexibility and Customization—The machine comes standard with dual rolls, allowing for flexible wrapping options, such as using a clear film inside and branded film outside. The control panel on higher-end models is highly customizable, with features such as customized wrap cycles and touch screens with built-in how-to videos.
Safety—Handle It designed the C-Style Orbital Wrapper with safety in mind. The wrapping ring is fully enclosed, reducing the chance of operator injury. The machine also incorporates features like a standard clamp-and-cut and a concealed cutting blade for increased operator safety.
Rugged and Durable—The C-Style Orbital Wrapper is constructed using high-quality and durable materials, ensuring long-lasting performance. With its high-grade steel frame and precision-engineered components, this wrapper stands up to rigorous use while consistently delivering optimal wrapping quality.
Extended Warranty—Handle It offers a longer warranty than competitors, with a 3-year warranty against the typical 1-year warranty offered by others.
Wide Range of Applications—This wrapper is especially suitable for specialized applications. For example, tires need to be wrapped to prevent them from marking other objects during transport. The C-Style Orbital Wrapper is efficient at wrapping various products, including pipes, tubes, hoses, window frames, and metal coils.
Nationwide Network and Support—Handle It has a nationwide network of dealers and a commitment to service and parts availability. This is especially important for businesses that value minimal downtime.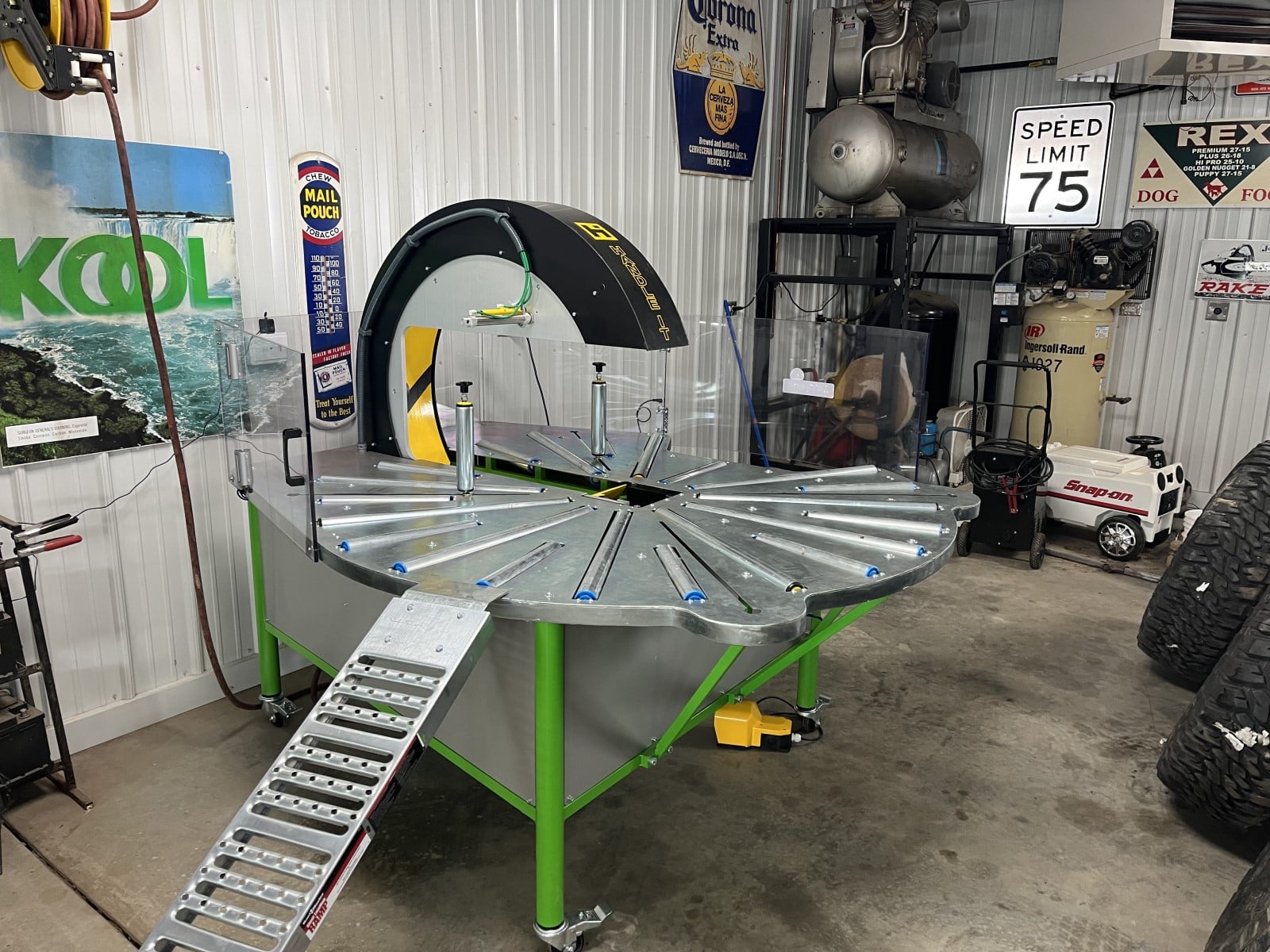 The Results: Time and Money Saved
Handle It's C-Style Orbital Wrapper addressed Feltz Tire's challenges by reducing labor costs, ensuring consistent and efficient wrapping, and improving safety. Its flexibility and range of applications made it the ideal solution to enhance the wrapping process and protect the tires during shipping.
Cost Savings and Consistency—The C-Style orbital stretch wrap machine compressed the tire dimensions and eliminated the frustrating $120 per tire charge. It also consumed significantly less film than hand wrapping – $1.14 per tire compared to $2.42 per tire for hand wrapping.
The shorter wrapping time also reduced labor costs. The machine wrapped each tire in about 2 minutes (including loading and unloading) compared to 6-7 minutes per tire for hand wrapping.
Labor Efficiency and Employee Welfare—The entire shipping process became more efficient, and the consistent quality of the wrap delivered a higher standard of packaging. Employees no longer suffered physical strain from hand wrapping, eliminating issues such as blisters and back pain.
Enhanced Online Sales—With the Handle It C-Style Orbital Wrapper ensuring consistent packaging dimensions, Feltz Tire was able to calculate freight charges for smaller orders accurately.
This allowed them to expand their online sales channels beyond eBay, streamlining the ordering process for customers without the need for extensive back-and-forth communication on shipping costs.
Experience Greater Efficiency and Labor Savings with Handle It Orbital Wrap Machines
Handle It Orbital Wrappers boost productivity and reduce labor costs in your packaging process. With their state-of-the-art design and robust performance, they are indispensable assets for ensuring the secure and efficient wrapping of round and non-standard-size products.
Discover the many features and benefits of our FA-90C model Orbital Wrap Machine, designed to elevate your packaging processes and maximize efficiency. Take a closer look below at how this cutting-edge solution can revolutionize your round product wrapping experience.
See Our FA-90C Round Products Orbital Wrap Machine
BACK