Stretch Wrapping Dark/Black Colored Products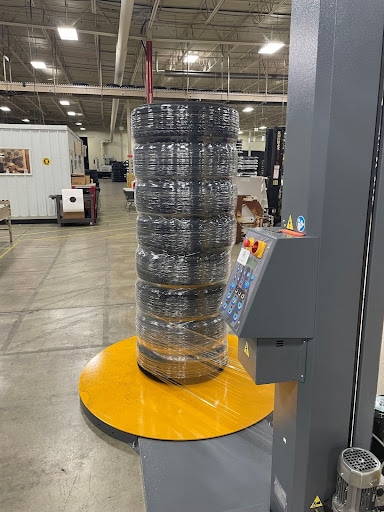 Stretch wrapping dark/black-colored products such as tires, automotive parts, and building materials by hand can lead to human error and damaged products while in transport. Stretch wrapping machines from Handle It will help increase efficiency while securely wrapping your goods for shipment.
You may have found that using an ordinary stretch wrapper on a pallet of black or dark-colored products doesn't work very well. This is because a standard photo-eye cannot "see" the load.
Handle It offers the Sick brand high-quality photo-eye (p/n SIK1019229), designed to detect and wrap dark-colored loads—such as stretch wrapping tires or other automotive products. It works with any of our semi-automatic stretch wrap machines. It can help wrap such products as:
Tires
Rims
Black powder-coated wheels
Black powder-coated parts
Wheel trims
Nursery pots
Handle It semi-automatic turntable stretch wrappers come with a wide range of features, such as:
Easy-to-use controls
32 custom wrap cycles
Ability to wrap up to 300 loads per day
250% power pre-stretch
118″ maximum load wrap height
Rack and pinion carriage drive
Pro Tips
Here are several Pro Tips that will help you properly shrink wrap black and dark-colored products for transport:
A great starting point is a cycle with 2-3 top and bottom rotations with a film tension of around 50% for average pallet loads.
On initial setup try slower speeds and less tension and work your way up to optimize cycle time and load containment.
If you have sharp edges on the product try lower film tension and rotation speed or consider a thicker more puncture-resistant film.
If you have outlier products at the top try increasing the overwrap delay or "flanging" time along with top rotations to make sure you get the film band high enough to catch the top layer.
If you have empty spaces or voids try either increasing the flanging time or try the fixed height setting available on model 1100.
Have more questions? Contact Us.
RELATED INDUSTRIES
The below industries can benefit from the many features of a Handle It semi-automatic stretch wrapping machine.
Safely and efficiently get your dark-colored products from distribution centers to retail locations with a fully or semi-automatic pallet wrapper from Handle It.
Warehouses and logistical operations receive and ship large quantities of pallets daily. A stretch wrapper will help ensure that your facility can securely wrap all dark-colored loads that come through.
Help ensure the safe storage and transport of your customer's product with a fully or semi-automatic pallet wrapping machine. The high-quality photo-eye will help detect dark loads and provide a consistent secure wrap.
Manufacturing companies of all types can benefit from a fully or semi-automatic shrink wrapper. Securely wrap your dark-colored products for efficient and safe transport to their destination.
HELPFUL RESOURCES
At Handle It, we're here to help you make a more informed buying decision with the following resources:
Accessories & Safety Essentials
Upgraded photo-eye sensor (required)
Pallet Wrappers to Match Your Application
Handle It has a wide range of fully automatic, semi-automatic and mobile robotic pallet wrappers that come with many features that will allow you to improve your shipping efficiency while properly securing your pallets for transport.
Don't see your industry? Unsure which machine is right for your application? Give us a call or contact us, and one of our friendly experts will work with you to find the best solution.