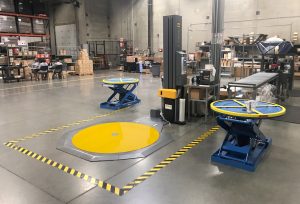 In August of 2018, a cutlery eCommerce company contacted Handle It for help solving a warehouse inbound inventory challenge that was creating a bottleneck and costing them a tremendous amount of money and man-hours.
Cutlery and More
Cutlery and More is an online eCommerce website that sells high-end cutlery, pans, and other cookware. They ship their online orders out of their Dundee, IL, warehouse.
The Challenge—Manually Hand Wrapping Pallets in a Small Warehouse
Cutlery and More buys the products they sell in bulk and then breaks down and repalletizes them for ease of inventory management. As their business grew, they found themselves having to manually hand wrap 50-60 pallets per day. Hand wrapping a pallet is not only time-consuming but leads to human error and injuries when performing the same process repeatedly.
The executives at Cutlery and More realized that this process was wasting precious time and money and decided to purchase a pallet wrapper to speed up their inbound inventory management efforts.
However, there were a few concerns—the warehouse is extremely busy in the fall through Christmas, and they wanted a wrapper that didn't take up too much floor space. They also wanted a solution that was easy to use and didn't require workers to undergo extensive training.
The Solution
After an exhaustive search, the executives at Cutlery and More chose the Handle It 1200UL Ultra Low Profile Stretch Wrap Machine.
Unlike other pallet wrapping machines, the 1200UL does not require an additional 5' or 7' ramp to load. The ultra-low-profile lip allowed the warehouse to save a tremendous amount of floor space while loading/unloading with manual pallet jacks, an electric jack, and several forklifts.
The six quick-select programs and 56 cycle parameters of the 1200UL meant that they could pre-program the machine once and then train the warehouse workers much easier and faster.
The forklift operator simply needs to load the pallet, push a few buttons, and the machine does the rest.
Results: Improved Efficiency and an Unexpected Cost Savings
The Handle It 1200UL Ultra-Low stretch wrapper far exceeded the expectations of Cutlery and More. Thanks to the pallet wrapper doing all of the hard work, the executives quickly realized that they needed 1.5 fewer workers in their warehouse—which equated to around $80k a year in labor savings.
The 250% power pre-stretch feature of the Model 1200UL helped significantly cut down on shrink wrap usage and waste by 10% or $800 annually. In addition, the wrapper has allowed the warehouse to double the number of inbound shipments they can break down and repalletize in a single day.
Needless to say, the executives at Cutlery and More were extremely happy and impressed with the benefits they received from the Model 1200UL shrink wrapping machine.
Chris Froehlich, VP of Operations for Cutlery and More, remarked:
"Our biggest benefits of having the Handle It Stretch Wrapper are ergonomics and speed. Since we've started using the unit, there hasn't been one complaint from our employees about any strain or pain with having to hand wrap pallets. Once that was eliminated, our pallet wrap throughput skyrocketed, and we are able to get a lot more done in a single shift than ever before."
Let Handle It Help Solve Your Pallet Wrapping Challenges
Handle It has several semi and fully automatic pallet wrapping machine solutions for warehouses of all sizes. The power pre-stretch feature, programmable controls, and slim footprint will help increase your productivity while reducing costs.
Learn why more shipping and receiving operations choose Handle It pallet wrappers to improve efficiency and save money.
Contact One of Our Experts to Learn More
BACK