Pallet Wrapper Accessories
Handle It offers an extensive range of accessories that will increase the utility of your pallet wrapper. If you're looking for add-ons and parts that will improve the ROI from your pallet wrapping equipment, we can help.
Our range of accessories includes:
Auto Film Cut Function
Pallet Wrapper Ramp
Label Printers
Extra Height for Tall Pallets
Roping Devices
Cold Storage Specification
Top Press
Extended Frame with Larger Turntables
Anti Static Brush
Note that some of these are installed at the factory when you order your pallet wrapping equipment. Others can be installed by you in your factory. Keep reading to learn more, and contact one of our product experts for additional information.
Pallet Wrapper Scale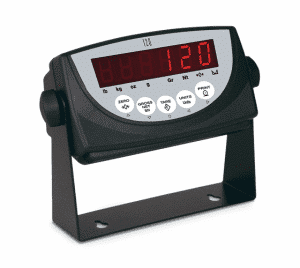 Scales built into the pallet wrapper will give you the exact weight of the complete pallet. This saves a trip to a separate weighing station and saves on space, too. Factory-installed into the frame of the unit, a mast-mounted digital display shows the total weight in easy-to-read digits.
Auto Film Cut Function
Once the pallet has been wrapped, an auto cut system cuts the film and welds it to the pallet. This saves time and creates a safer working environment by eliminating a reason for having knives or box cutters in the warehouse.
Pallet Wrapper Ramp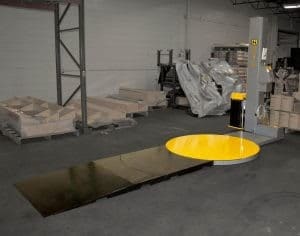 Pallet wrappers are designed to work with forklift trucks but sometimes it's easier to move pallets around with a pallet jack. These need an incline if they're to be pushed onto the shrink wrapper platform, and that's the purpose of a ramp.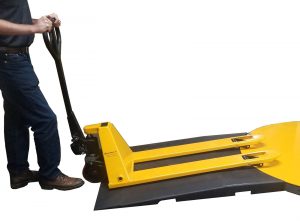 Add a deck extension if you're using an electric walk-behind pallet jack.
Label Printers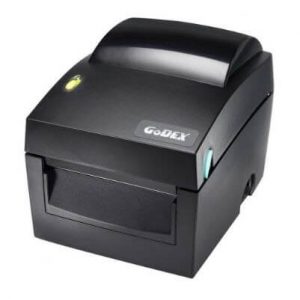 Shrink-wrapped pallets need proper identification in your warehouse and when they arrive at your customer's location. A label printer produces an easy-to-apply sticker with the weight and a date/time stamp. We offer model SWS-PRN-DT4X, a 4" label printer.
Extra Height for Taller Pallets
If cartons or packages are lightweight, increasing the height of the pallet is a good way of improving space utilization and efficiency. It only works though if the pallet wrapper can accommodate a taller pallet. If taller pallets are an option for your business, ask about extra height on your next pallet wrapper.
Roping Devices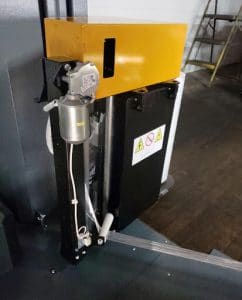 Pallet wrapping starts and ends with film squeezed down into a rope for added strength. A roping device performs this automatically at the end of the wrapping cycle, saving time and minimizing waste while ensuring every pallet is wrapped securely.
Cold Storage Specification
Low temperatures, like those found in many food storage warehouses, aren't friendly to regular lubricants and moving parts. Specify you will be using the shrink wrapper in a cold storage environment and it willl be equipped with components and lubricants engineered to perform in the cold.
Top Press

A top press is useful for lighter products/cartons and unstable loads. It works by applying pressure to the uppermost layer on the pallet. This provides compaction that, when combined with the film wrapping, ensures the cartons or other packaging are held together securely.
Extended Frame with Larger Turntables
Not every product or package fits neatly within the footprint of a pallet. An extended frame and larger turntable are invaluable for wrapping large items or loads.
Anti Static Brush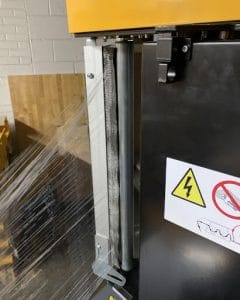 Feeding stretch film generates a lot of static, especially in cold, dry environments. This brush dissipates the static so workers don't get shocked and it eliminates risks to the product.
Machine Grade Film
When film tears during wrapping it stops the process and causes costly delays. It can even lead to cartons falling off the pallet. High-quality film intended specifically for shrink wrapping machines resists tearing, offers excellent stretch, and comes in a range of gauges.
Fork Lift Wheel Stop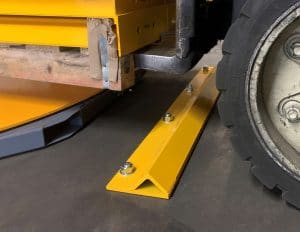 Fork Lift Wheel Stops are a simple, effective tool that prevents forklifts from bumping into, or even driving on, stretch wrapper turntables. This durable & long-lasting piece can save thousands of dollars when factoring in repairs to damaged machines and lost production with down time. 
Other Accessories
If there's an accessory that would simplify and improve your pallet wrapping operation that's not listed above, please contact us. We specialize in pallet wrappers and can assist you in finding the right accessories to improve the productivity and efficiency of your warehouse operations.
No products were found matching your selection.