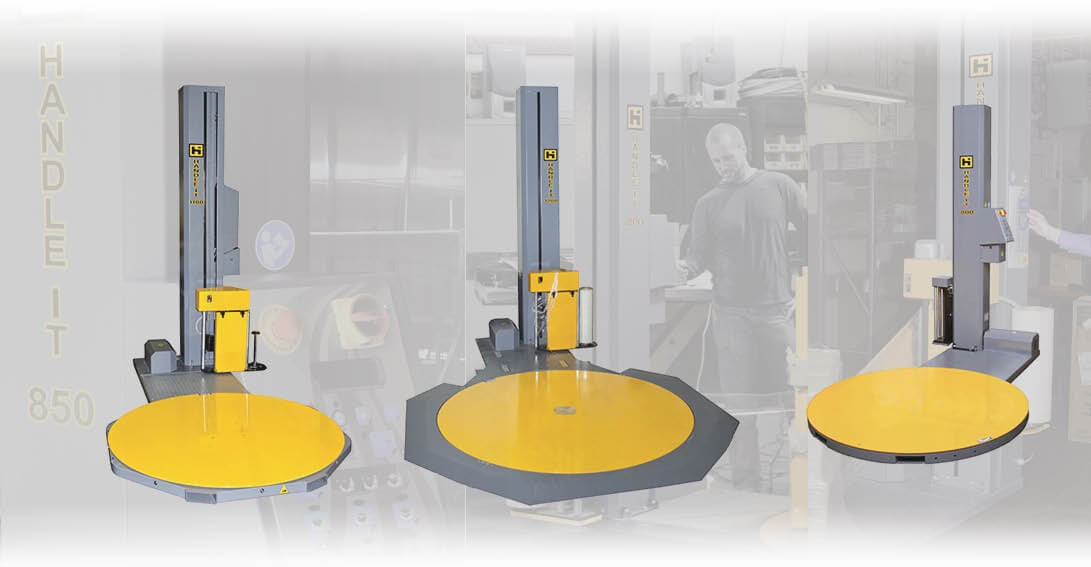 Automatic and semi-automatic stretch wrappers can improve the efficiency of your processes, and they can even remove some of the risks inherent in wrapping loads manually. However, like any machine, they do introduce safety hazards of their own. As such, it's important to use best practices when installing and operating these machines.
Stretch Wrapper Safety Risks
Some of the most common safety risks of stretch wrappers include:
Workers being struck by moving parts of the machine
Hands or loose clothing being caught in the machine
Injuries resulting from trying to reattach film after a film break
The safety features on your machine can help mitigate those risks, but there are other practical measures you can take to prevent injury as well.
Stretch Wrapper Installation Safety Tips
When installing a stretch wrapper, the following tips will make it as safe as possible for your personnel while also maximizing its efficiency and overall effectiveness.
Install on solid, even ground
The first tip is to make sure you install it on a good, solid spot. The floor should be flat and stable. If it's soft or uneven, it could pose a risk of tipping, and it may interfere with its ability to operate as intended.
Move with care
When moving the wrapping machine, make sure you use the correct size forklift. It should be large enough to prevent the unit from tipping and high enough capacity to be able to handle the load. It's also highly recommended that you avoid trying to push or slide the machine. Doing so could damage the unit and cause serious injury to those involved.
Whenever it's necessary to move your machine, it's best to move it from the mast end first to make sure it's as secure as possible.
Avoid using extension cords
Extension cords present several risks, including tripping and electrocution. When feeding power to your stretch wrap machine, ensure that it's close enough to an outlet that you don't have to use an extension cord.
Keep away from smoke and dust
Over time, smoke, dust, and other airborne debris may interfere with the machine's ability to function. As such, it's best to keep it in areas where the air is clean and well ventilated.
Use proper lighting
Direct lighting may interfere with the machine's ability to operate. Automatic stretch wrappers use a photo eye to trigger motion, and if the lighting is too bright, it may cause the machine to malfunction, potentially causing injury to anyone standing nearby.
Install barriers
Finally, when you install your stretch wrapper, it's also important to put proper barriers into place. Guard rails, cages, guides, or post and chain barriers can help make sure that employees keep a healthy distance from the machine while it's in operation. Operators should also be trained to use those barriers as intended.
Stretch Wrapper Operation Safety Tips
Once installed, your stretch wrapper will mitigate the safety risks that manual wrapping may introduce. However, it's still a heavy piece of equipment with many moving parts, so it's important to make sure operators are trained in proper safety practices. The following tips can help.
Don't overload the platform
First of all, don't use the unit to wrap loads that are too large for its turntable. When wrapping an oversized load, the sides of the pallet that overhang the turntable may strike the wrapper's base, potentially causing damage to both the machine and the load. Naturally, this would pose a risk to nearby employees as well.
As such, always make sure loads fit within the turntable's perimeter. If you need to wrap larger loads, it may be worth investing in a larger machine.
Keep away from the turntable
While the machine is in operation, employees should keep well away from the load. The machine should be designed such that the control panel is away from the turntable, making it safer for the operator, but others in the area should retreat behind your barricades while the machine is moving.
Power off when not in use
As with many pieces of heavy equipment, it's always good practice to make sure your stretch wrapper is powered off while not in use. Not only will that save on electricity in your facility, but it also reduces the risk that the machine will start unexpectedly while someone is nearby.
Power off before servicing
Likewise, anytime you need to service the machine, power it off. Establishing proper maintenance lockout-tagout measures in your facility is always a good idea, and it's no different from a stretch wrapper. Any time you have maintenance planned for your stretch wrapper, turn it off first and disconnect the power.
Maintain regularly
Stretch wrappers require regular maintenance to keep them running properly. Recommended preventive maintenance tasks include:
Lubrication
Change oil in the gearbox
Efficiency testing
Monitoring line voltage/amperage readings
Recalibration
These tasks should typically be performed quarterly, but it ultimately depends on the level of use your machine sees and the conditions in your facility.
Keep machine and area clean
Finally, keep your machine and the surrounding area clean. The unit should be cleaned daily where possible, and debris should be kept clear of the turntable and the nearby floor space. Doing so will keep your stretch wrapper running smoothly while minimizing the risk of trips and falls to workers.
Keeping Safe When Using Stretch Wrapper Machines
When your employees are trained to follow the above stretch wrapper safety tips—and if your work process supports their implementation—you'll benefit from the improved safety of the stretch wrapping machines in your facility.
Learn About our Stretch Wrappers
BACK