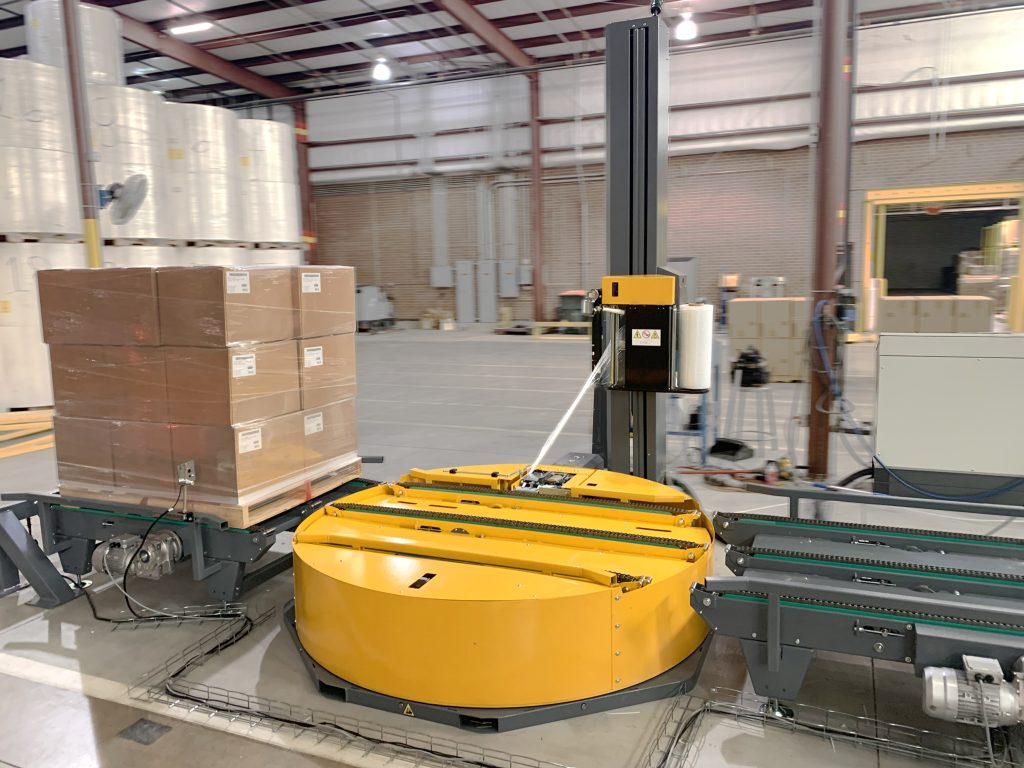 Semi and fully-automatic stretch wrappers allow your workers to quickly and safely wrap your skids for shipment. They significantly cut down on manual labor and improve overall efficiencies.
However, determining which type best suits your needs can be challenging. Throughput, load uniformity, space constraints, and budget are just a few considerations that you'll need to evaluate.
Read on to learn more about semi and fully-automatic pallet wrappers and how to decide which one is right for you.
What Are Semi-Automatic Wrappers?
Semi-automatic wrappers require a human operator to drive the pallet onto the turntable and secure the film to the load.
Once the worker pushes the "Start" button, the machine wraps the pallet according to the pre-selected wrap program.
Several semi-automatic stretch wrapper models can be ideal for low-to-medium operations that need to wrap anywhere from 20 to 300 loads daily.
For example, the Model 1200UL Ultra-Low enables loading pallets without using a long ramp, thereby saving precious floor space.
Some machines, such as the Handle It® Model 850PS, come with a 250% power pre-stretch film carriage. This feature provides efficient film usage and can save thousands of dollars annually.
[NEW VIDEO]
Semi-automatic wrappers range in price from $5,000 – $15,000, plus add-on accessories.
Check out our semi-automatic stretch wrap machine comparison table to see which model suits your packaging operation.
What Are Fully Automatic Wrapping Machines?
Automatic pallet wrapping machines offer increased performance and improved efficiency. They're ideal for packaging operations that need to wrap many loads daily. As their name implies, fully automatic wrappers require little human intervention.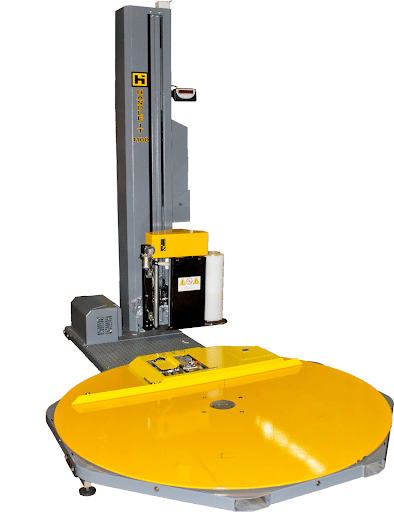 The forklift operator drives the pallet onto the turntable, backs away, and then presses a button on the remote control.
The wrap machine will size up the load via an onboard photo-eye, select the ideal wrapping program, and then secure the start of the wrap.
Once the process is completed, the machine cuts the film and secures the tail end. This makes it a completely seamless operation and allows the operator to stay on their forklift for the entire cycle.
Fully automatic and rotary arm stretch wrappers range in price from $50,000 and up, depending on the project requirements This type of equipment eliminates all of the labor associated with the wrapping process. Check out our automatic stretch wrapper comparison table to see which model is right for your packaging operation.
Fully-Automatic vs. Semi-Automatic Stretch Wrapper Machine
Semi-automatic and automatic stretch wrappers each have different advantages. For example, semi-automatics provide flexibility for irregular loads and varying pallet sizes with operator oversight. Alternatively, automatics streamline high volumes of uniform-sized pallets.
Semi-automatics require manual loading but enable customizing settings per pallet. Automatics work continuously with no oversight but only suit consistent, standardized pallets.
Consider your throughput, load consistency, and labor goals when choosing between the two types of stretch wrappers.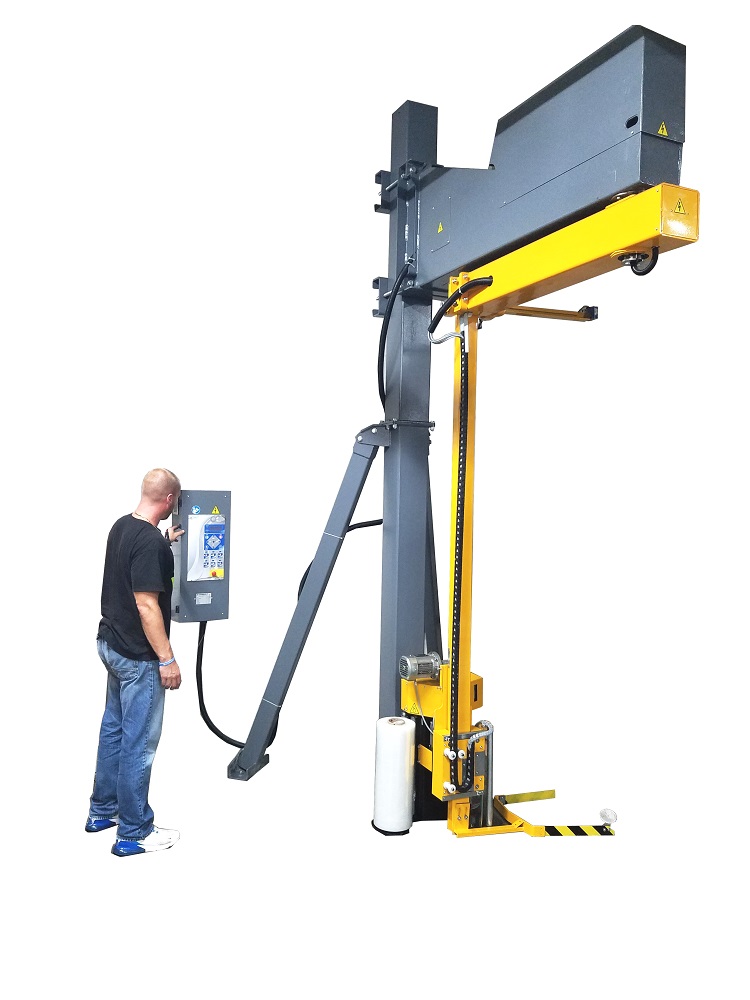 | Feature | Semi-Automatic | Automatic |
| --- | --- | --- |
| Throughput | Up to 100 pallets/day | 100+ pallets/day |
| Pallet Uniformity | Varying sizes and shapes | Fixed standard size |
| Load Type | Irregular loads possible | Uniform A-type loads only |
| Operation | Manual pallet loading. The operator starts the wrapping cycle | Continuous automatic operation |
| Adjustments | Settings adjusted per pallet | Preset settings are harder to change |
| Labor Needs | Operator loading/unloading | Little direct oversight needed |
| Training | Basic training | Training for the technician for maintenance is advised |
| Cost | Lower initial investment | Up to 5x initial investment |
| Flexibility | Adaptable to varying pallets | Optimized for consistent pallets |
| Pallet Flow | Individual pallets | Inline conveyor system |
| Load Stability | Can wrap irregular loads | Boxes falling risks total line stoppage |
| Customization | Settings fully adjustable | Limited between presets |
In summary, automatic wrappers provide fully unattended operation at high speeds but require a more considerable capital investment. Semi-automatic machines have a lower upfront cost but involve operator labor that can limit throughput.
What Are the Benefits of Automatic and Semi-Automatic Machines?
The main difference between full and semi-automatic pallet wrappers is the manual effort required to operate the machine. However, depending on the model, they both share several benefits, such as:
User-Friendly Control Panel—The integrated control board enables you to customize up to 18 wrap programs. Users can also control speed, film tension, and view wrap counts.
Power Pre-Stretch—The power pre-stretch feature stretches the film up to 250% before beginning the wrapping process. This can result in thousands of dollars in film savings every year.
Optional Scale—You can add a factory-installed optional scale to most machines. This allows for accurate weight and increased freight savings.
Consistent Results—Achieve uniform wrap quality and pallet stability load after load.
Increased Safety—Minimize product shift during transport and securely contain loads.
Labor Savings—Automate wrapping to reduce direct labor costs compared to manual wrapping.
Maximized Output—Fast operation increases throughput and pallets wrapped per day.
Easy Operation—Intuitive controls make machines easy to operate after basic training.
Enhanced Monitoring—Digital displays provide instant notifications if issues arise.
How to Choose the Right Stretch Wrapper?
Semi-automatic machines provide more flexibility because they are not in line with a conveyor. Automatic machines are more limited in terms of pallet width and depth, and they're typically better for wrapping A-load pallets.
Automatic stretch wrappers operate without human interaction. If unstable B or C loads shift, they can cause full line stoppages. Alternatively, a semi-automatic pallet wrapper allows the forklift driver to stop and rewrap a shifting B or C load without causing a stoppage.
Several other considerations can help you determine which model stretch wrapper will work best for your packaging operations:
Loads Per Day—How many pallets do you need to wrap daily? Each model varies in how many loads they can wrap per hour or day.
Film Savings—Is saving film a concern? If so, consider models with a power pre-stretch feature to ensure maximum film savings.
Warehouse Space—How much floor space can you allot to a stretch wrapping machine? If available space is a concern, consider the Model 1200UL. It offers a unique frame design that's ideal for smaller areas.
Pallet Jacks or Forklifts—Using manual or electric pallet jacks for loading? We have several ramp options to improve safety and efficiency.
Film Flexibility—Semi-automatic wrappers are ideal for accommodating multiple film types, like colored or printed rolls for seasonal packaging. The operator can switch film types between pallets while automatics are optimized for consistent film.
Integration—Automatic stretch wrappers integrate well at the end of the line, and with conveyor systems, matching high throughput operations. Semi-automatics create a start-and-stop workflow between pallets rather than continuous operation. Consider how wrapping fits your overall automation ecosystem.
Which Stretch Pallet Wrapper Is Right for You?
Fully automatic and semi-automatic pallet wrappers offer many advantages, such as increased efficiency, faster wrapping speeds, and quick ROI. The ideal stretch wrapper should closely meet your workflow, speed, load type, and labor availability needs.
Check out our semi-automatic and fully automatic stretch wrappers below to discover the right stretch wrapper for your facility.
Semi-Automatic Stretch Wrap Machines
Automatic Stretch Wrap Machines
BACK