Improved efficiency and a measurable decrease in manual labor make turntable pallet wrappers an indispensable part of any shipping operation. If you're researching turntable pallet wrapping machines, perhaps you've noticed that some are labeled "low-profile" and others "high-profile."
Read on to learn more about the differences between high and low-profile pallet wrappers and how to make a more informed buying decision.
High-Profile Turntable Wrappers
The main difference between the two types of machines is that the turntable of a high-profile pallet wrapper sits eight inches above the floor. At this height, only a forklift vehicle can load and unload pallets for shrink wrapping.
A potential downside to using a high-profile turntable wrapper is that if one or more of your forklifts goes down for maintenance, productivity will suffer. The eight-inch height of the platform physically prevents automatic and manual pallet jacks from loading a skid.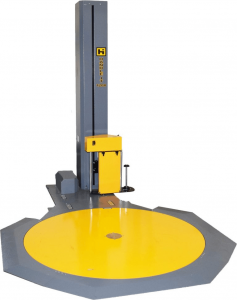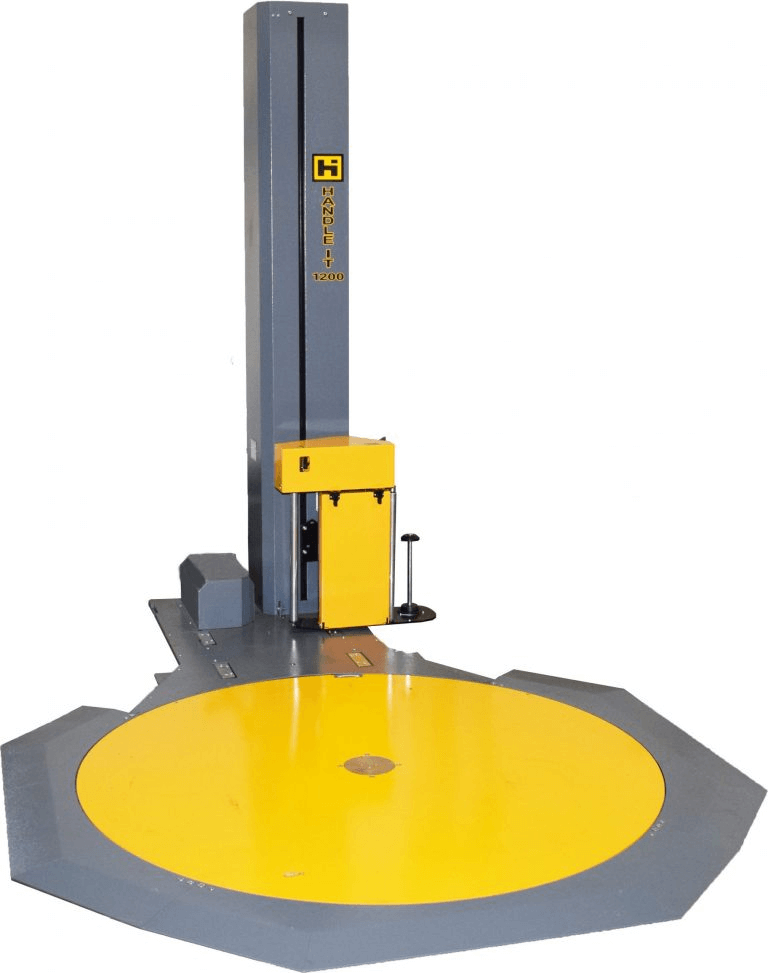 Low-Profile Turntable Wrappers
When it comes to safely and efficiently wrapping your pallets, low and ultra-low-profile turntable pallet wrappers offer far more flexibility than their high-profile counterparts. Low-profile wrappers, such as the Model 850PS, sit a mere 3" above the ground floor.
Ultra-low profile turntable wrappers, such as the Model 1200UL, are only ¾" tall and come with an ultra-slim 8" ring ramp. This enables your warehouse workers to load and unload from all three sides. It also eliminates the need for long loading ramps, thereby reducing its overall footprint.
Benefits of Low-Profile Turntables
Low-profile turntables offer several significant benefits over their high-profile counterparts.
Flexibility
Unlike high-profile wrappers, you can use either a forklift or a pallet jack to safely load pallets onto a low-profile machine. This allows your packaging operations to continue uninterrupted if a forklift should suddenly go down for repair.
Designed for Pallet Jacks
The long ramp that the operator must manually navigate is one of the biggest drawbacks to using a pallet jack when loading a pallet wrapping machine. Standard loading ramps are anywhere from five to eight feet long and require physical effort on the operator's part.
Low and ultra-low profile wrappers sit closer to the ground, eliminating a great deal of the manual effort and long ramp required to load a pallet. This helps reduce the chances of the operator losing their balance and spilling a load.
Decreased Chance of Damage
The average forklift is far more powerful than a manually-operated pallet jack. High-profile wrappers present an obstacle that a tired or distracted driver can accidentally crash into. If they aren't paying attention, they could inadvertently drive the skid directly into the raised loading platform and cause damage to the machine, pallet, or products.
While high profile wrappers may be easier for the forklift driver to see through the forklift mast, low profile pallet wrappers that have high visibility turntables (all Handle IT semi-automatic models have yellow turntables) make it easier for the forklift operator to spot the pallet to set it down in the center of the table.
How to Choose the Right Low-Profile Stretch Wrapper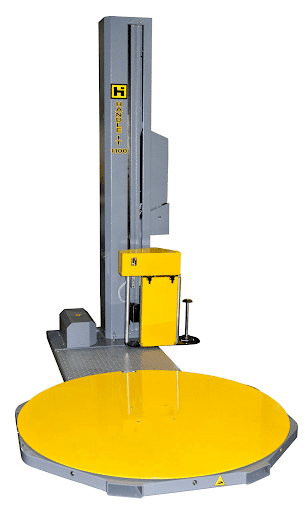 There are two main types of low-profile stretch wrappers—automatic and semi-automatic.
Automatic stretch wrappers allow the forklift operator to load the skid and start the wrapping cycle without ever leaving the driver's seat. This helps significantly reduce the time it takes to wrap a pallet.
Semi-automatic turntable wrappers require some manual intervention. The forklift driver will load the skid onto the machine and then walk over to the control panel to select the applicable wrapping program. Once the cycle is completed, the worker ties off the loose end and hops back on the forklift to remove the wrapped pallet.
Which Low-Profile Turntable Pallet Wrapper is Right for Your Packaging Operations?
The two main advantages of opting for a low-profile pallet wrapper are flexibility and ease of operation. If your packaging operation is only using manual or powered pallet jacks, the low-profile turntable reduces the need for long loading ramps and decreases the chances of a spilled load due to operator error.
Check out our line of low-profile, ultra-low profile, and fully automatic turntable stretch wrappers, or contact one of our friendly experts to learn more.
BACK