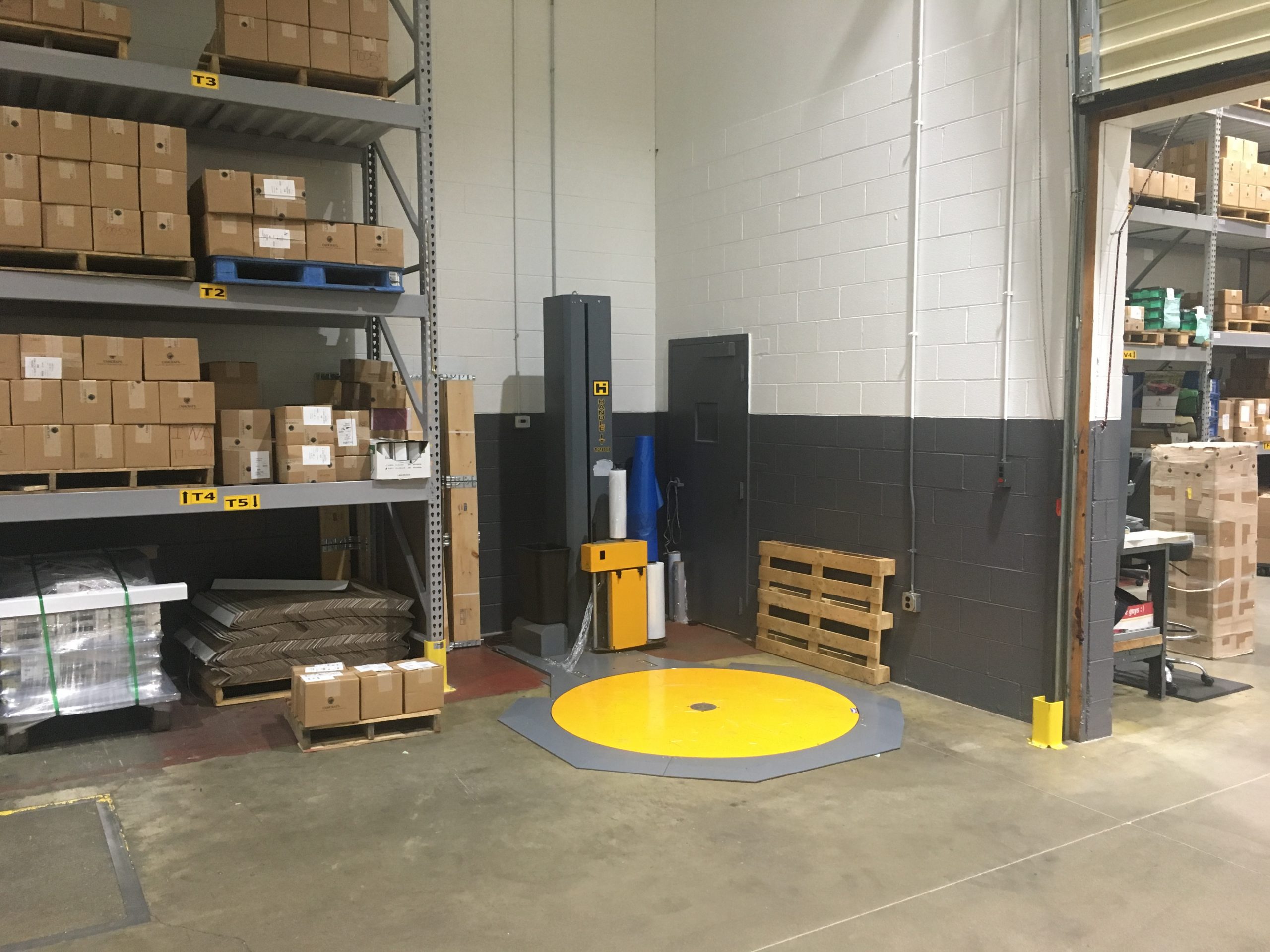 At first glance, the differences are subtle. The 1200UL looks similar to our other pallet wrapping machines, but as soon as you see it, you'll find yourself remarking: "Wow, that is the lowest turntable I've ever seen." 
Indeed, it is the lowest turntable height available on the market. It measures under 3/4″ tall and comes with an ultra-slim 8″ ring ramp. This allows operators to load and unload on all three sides. 
Read on to learn more about the tremendous benefits, value, and features that the 1200UL model can offer your packaging operations.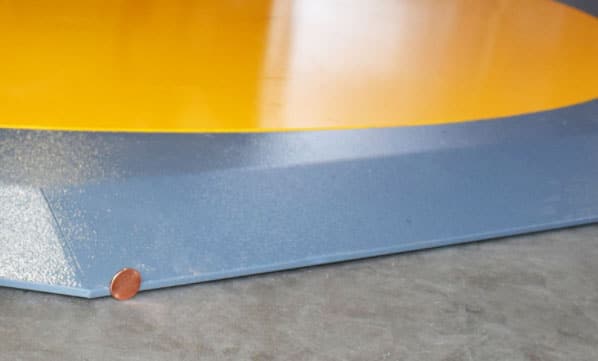 The 8″ ring ramp allows for loading on all three sides. Smoothly roll pallets on and off the turntable with minimal effort.
3 Key Benefits of the 1200UL
There are three main benefits to the ultra-low turntable design. The first is the ease of loading and unloading with manual equipment. Whether you are using hand pallet jacks or electric walk-behinds, the transition from floor to turntable is very smooth. 
This is a vast improvement over the standard loading ramps that are typically five to eight feet long. These require far more physical effort to push up and you run the risk of dumping your load or running off the ramp altogether. The sheer ease of loading pallets onto the ultra-low protects against spills and increases worker safety.
The second benefit is the space savings aspect. Without the need for long loading ramps, the 1200UL occupies a much smaller footprint. When you can reduce the overall area needed for equipment, it helps save both floor space and money while improving efficiency.
The third benefit is the turntable drive system's reliability. Typical designs are either chain drive or belt-driven. They require routine maintenance and repair over the life cycle of the machine. The 1200UL has a patented gear-driven design, which results in a smooth and reliable system that requires very little maintenance. 
1200UL Features
Handle It brand semi-automatic stretch film wrapper machines offer tremendous value and the 1200UL includes the following features:
Smoother, more responsive film stretching
Consistent stretch and corner compensation
250% power pre-stretch carriage lowers film usage by 60%
Integrated control boards with diagnostics reduce downtime and make repairs simple
Heavy-duty construction
Patented ultra-low frame
Intuitive, easy to use controls allow for simple or highly specific wrap recipes
Highly flexible controls for maximum efficiency and load containment
Digitally controlled power pre-stretch carriages
Rack and pinion carriage drive system
All components consist of name brand parts
Highly Customizable Options Offers Maximum Flexibility
The 1200UL offers users many highly customizable configuration options that will enable them to adjust it to any size or height of a pallet load:
Adjustable Turntable Speed 
Adjustable carriage upward and downward speed 
Adjustable Photo-eye to detect height, delay for overwrap, and to set a fixed standard height of pallet 
Set wrap to a designated reinforcement height
Fixed start height capability 
Save up to 32 custom wrap cycles and quick access to 6 of them. 
Wrapped pallet counter 
USB port to upload software, download settings, reports, and statistics
Set number of wraps for top and bottom of the pallet
The variable tension control allows you to set the film tension at different levels throughout the wrap cycle
Easier and Safer Loading
Worker safety is paramount when it comes to safely loading and unloading pallets with a forklift or hand truck. Traditional loading ramps are longer and have steeper grades. This equates to more physical effort and an increased chance of falling product. 
The ultra low profile on the 1200UL turntable dramatically reduces the effort needed to load a pallet. This helps prevent the operator from losing balance and is ideal for unstable loads when using pallet jacks. 
The ring ramp allows workers to safely load and unload from three sides with far less floor space required. The gentle slope of the lip greatly reduces the strain of pushing a load. This significantly lowers the chances of the product falling off the pallet. A lower profile also reduces forklift impacts and possible damage.
Handle It Model 1200UL — A Superior Choice
The Handle It Model 1200UL provides the most value when it comes to safely and efficiently wrapping your pallets. The ultra low profile decreases the chances of spilled or damaged products, and the turntable's patented gear-driven design means less maintenance and more uptime. Click below to learn more and get a quote.
Learn More About the Model 1200UL
Loading the Model 1200 UL with Walkie Rider Pallet Jack
BACK