Handle It recently completed a job to help a major big box home goods distribution center solve several shipping challenges at once. Workers were getting injured from hand-wrapping pallets while productivity suffered—the company (and workers) quickly needed a better solution.
Model 1200 UL Wrapping Mixed Boxes
A Dizzying and Manual Challenge
The Operations and Facilities Manager of this big box home goods company had a huge problem on his hands. His New Jersey distribution center was responsible for shipping out a tremendous number of pallets daily to stores in nearby cities and states.
Workers were still hand-wrapping pallets of goods—as they walked around each pallet multiple times, they became very dizzy and light-headed. It reached a point where some workers were calling in sick for multiple days due to back and arm pain from wrapping pallets 8-10 hours a day.
As time went by and the workload increased, so did the daily number of pallets shipped from the distribution center. The Operations and Facilities Manager quickly realized he needed a better solution and contacted their local Handle It dealer for help.
Three Fully Automated Solutions
In December 2021, a local Handle It dealer who also supplied the forklift fleet had a visit with the New Jersey distribution center. After touring the facility and learning more about the unique shipping challenges, they made their recommendations.
After an extremely short lead time, three semi-automatic Model 1200 UL Ultra Low Profile Stretch Wrappers were installed and running at full capacity in the warehouse shipping department.
Two units were integrated into the packing areas so workers could easily access, load, and unload with manual pallet jacks.
The third machine was installed in a separate area where employees could load and unload with a wide range of devices, including manual pallet jacks, forklifts, and walkie riders with very long forks.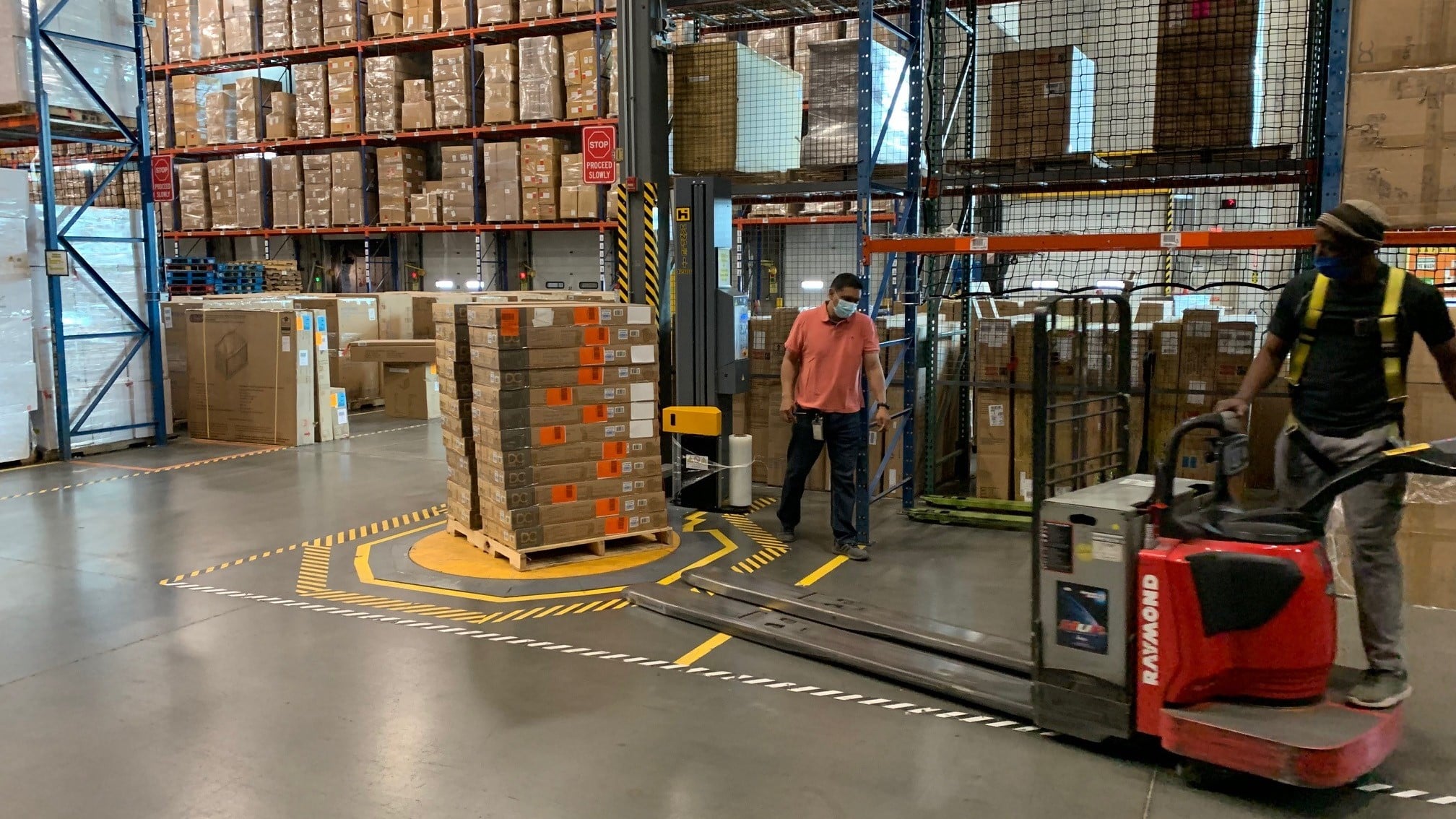 The 1200UL Ultra Low Profile Stretch Wrapper
The Model 1200UL is ideal for facilities that ship high volumes of pallets. It can wrap up to 200 loads daily, and the ultra-low lip allows workers to load and unload pallets safely without using a long ramp.
A 250% power pre-stretch feature lowers film usage by up to 50%, while the small frame allows for greater installation location options on the warehouse floor. The Model 1200UL comes with a wide range of standard features, such as:
User-friendly control panel
86" max wrap height
6 quick select programs
56 cycle parameters
Diagnostics
Photocell for pallet height detection
3,300 lb maximum load weight
Storage of 32 end-user programs
Results: Improved Efficiency and Happy Workers
The Operations and Facilities Manager and the workers couldn't be happier. Long gone are the days of walking in seemingly endless, dizzying circles around a pallet while holding an extremely heavy roll of film.
Efficiencies have greatly improved due to the ultra-low-profile design that allows anyone to load or unload with a pallet jack. Before the installation of three Model 1200UL pallet wrappers, only a handful of workers knew how to wrap pallets by hand. Now everyone in the shipping department can wrap pallets, dramatically improving productivity, safety, and flexibility.
Improve Shipping Efficiency with Handle It Pallet Wrappers
Handle It manufactures and carries many semi and fully-automatic pallet wrapping solutions to help solve your toughest shipping department challenges. Improved efficiency, decreased worker fatigue, and a consistent wrap makes Handle It stretch wrappers the ideal solution for organizations that wrap large numbers of pallets daily.
Contact one of our experts to learn more
BACK