Semi-automatic stretch wrappers will help improve the efficiency of your shipping or packaging department thanks to a wide range of time-saving features. When compared to wrapping pallets by hand, a stretch wrapper provides a more secure and consistent wrap.
At Handle It, we're often asked about the differences between the Handle It 850 PS, the Cousins 2100 SRT (Low Profile), and the Phoenix PLP 2100 pallet wrappers. Read on to learn more about the Handle It 850 PS vs. other stretch wrapper machines.
Handle It 850 PS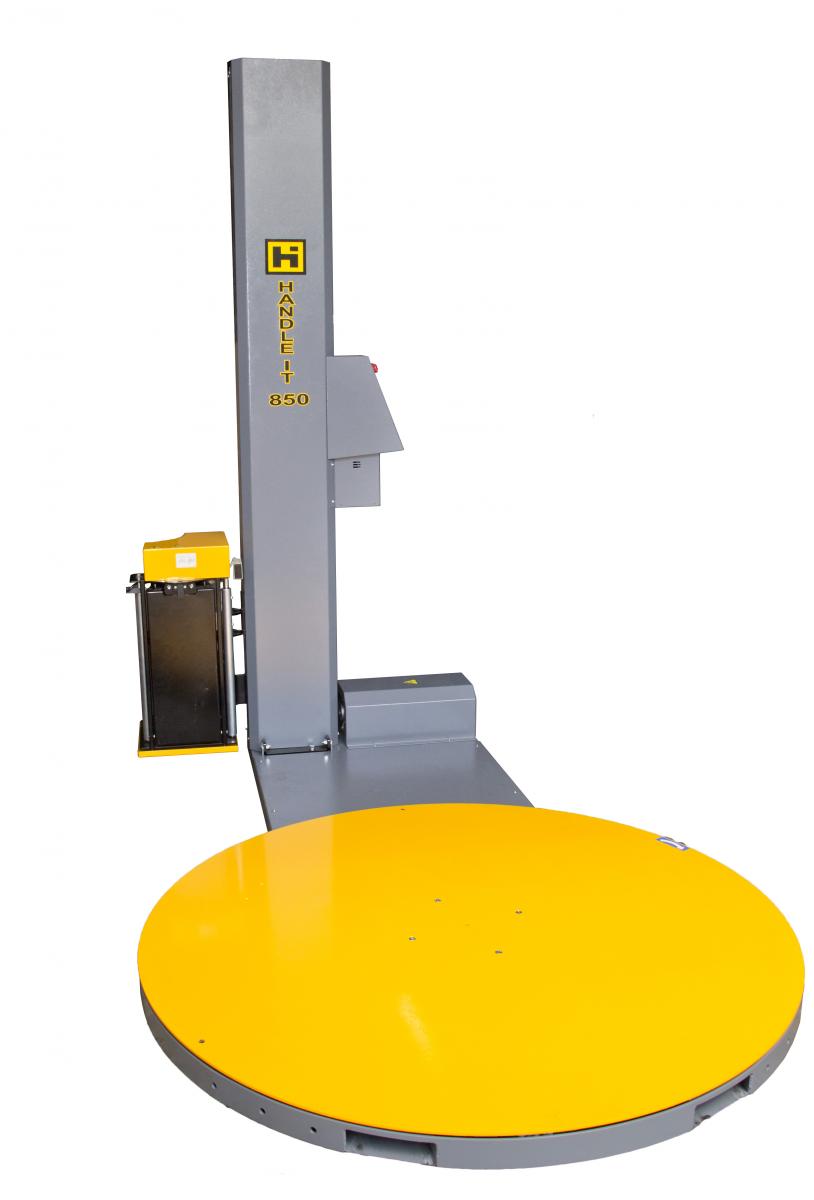 The Handle It Model 850 PS is one of our most popular semi-automatic pallet wrappers. It comes with a wide range of beneficial standard features, such as:
250% film pre-stretch (which uses 60% less film than machines without it)
18 customizable stretch wrap programs
User-friendly control panel
Name brand AC motors and frequency drives for added reliability
Electronic film tension
Wrap up to 100 pallets daily
Several key differences set the Model 850 PS apart from the competition:
The 2100 SRT and PLP 2100 only come with a chain drive, whereas the 850 PS has a highly reliable rack-and-pinion carriage drive.
The Cousins 2100 SRT has a 1/2hp turntable drive motor, while the Handle It Model 850 PS comes standard with a 3/4 horsepower TEFC turntable drive motor.
The Model 850 PS also has a 4,400lb load capacity versus the 4,000lb load capacity of the Cousins and Phoenix models.
Cousins 2100 SRT Low Profile
The Cousins 2100 SRT low profile pallet wrapper can wrap around 35 loads per hour. The actual number depends upon several factors such as load size, the number of wraps, and forklift driver skill.
It offers a 33% to 313% capacity pre-stretch film carriage and a special film threading device. However, to change the pre-stretch ratio variable, you will need to change out a sprocket from the machine manually.
Phoenix PLP 2100
The Phoenix PLP 2100 can wrap up to 45 loads per hour. Much like the 2100 SRT, the actual number depends on many different factors. Unlike the 18 pre-programmable wrap cycles of the Model 850 PS, the PLP only has three.
The Phoenix PLP 2100 only has a 245% film pre-stretch ratio, making it the least of all three models. It has a 58" turntable diameter, which allows it to wrap loads up to 2" x 52" (74" Load Diagonal).
Handle It 850 PS vs. Other Stretch Wrapper Machines Comparison Chart
Specs
Handle It 850 PS
Cousins 2100 SRT Low Profile
Phoenix PLP 2100
Load Capacity
4,400lbs
4,000lbs
4,000lbs
Electronic Film Tension Control
Yes
Yes
Yes
Optional Equipment
Integrated scale, Extended Max Wrapping Height 98″, loading ramp
Scale, tower extension, ramp
Custom wrapping cycles and height and size options.
Turntable diameter
59"
57"
58"
Standard pre-stretch
Yes
Yes
Yes
The Handle It Model 850 PS Advantage
The Model 850 PS semi-automatic pallet wrapper has a larger load capacity, 15 more customizable wrap cycles, and bigger turntable diameter than the Cousins 2100 SRT and Phoenix PLP 2100.
Improve the efficiency of your packaging and shipping department while ensuring a safe and consistent wrap with the Handle It Model 850 PS.
Check out our line of semi-automatic and fully automatic turntable stretch wrappers, or contact one of our friendly experts to learn more.
BACK