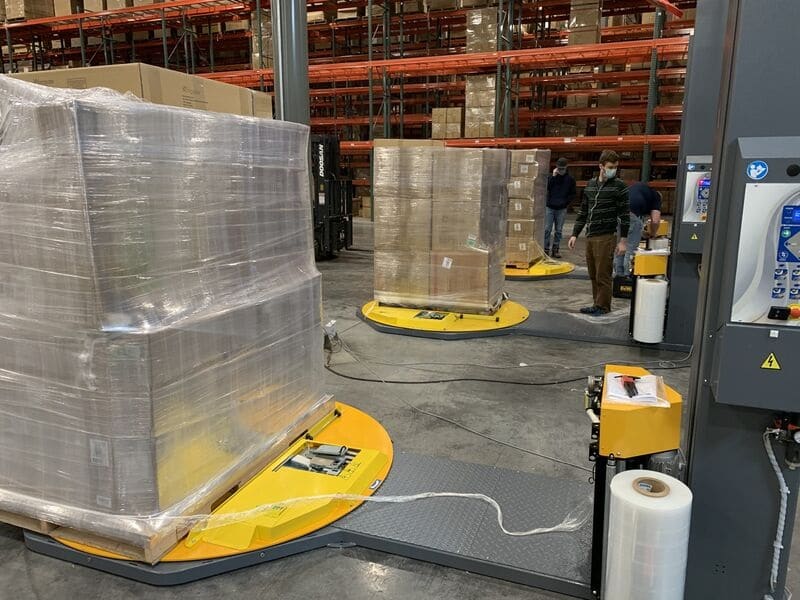 As mounting costs and labor shortages continue to put the squeeze on manufacturing and distribution operations, every piece of equipment has a part to play in getting product out the door quickly and efficiently. Your stretch wrapper is no exception.
Pick the right equipment supplier, and you gain a valuable partner in optimizing your workflow. Make the wrong choice, and you face headaches like mounting inefficiency, increased safety risks, and unpredictable repair and maintenance costs.
In this article, we identify common mistakes to avoid when choosing a stretch wrapper manufacturer and offer some valuable tips and resources to help you make a decision that works for your staff, your customers, and your bottom line.
Get It Covered: Avoid the 8 Most Common Mistakes When Using Stretch Wrappers
It's easy to underestimate the role a stretch wrapper plays in any manufacturing or warehousing operation. But in fact, it's a critical part of your commitment to handling safety and efficiency.
Whether you're installing your first wrapper or replacing an existing unit, there's a lot to think about. Here are eight common mistakes end users make when selecting a wrapping machine supplier to provide their equipment.
1. Not Taking Safety Seriously
Expecting your staff to move, pivot, and manually wrap pallets is not just a drain on efficiency in any at-scale handling operation—it's a safety risk.
While investing in an automated or semi-automated pallet wrapper may seem like a major expense, it doesn't compare to the human cost of any injury or all the potential costs of a lost-time incident.
Choose a manufacturer with the professional, rated equipment your employees need to do their jobs quickly and safely.
2. Underestimating Load Capacity
Choosing a machine with insufficient load/throughput capacity can bottleneck your operation and increase safety risks. Skimping on equipment that meets your average rather than maximum pallet size and weight, or failing to plan for future capacity increases, will only cost you in the long run.
Talk to your equipment supplier about industrial-grade equipment built for both your current and future needs.
3. Overlooking Film Efficiency
Film is a significant expenditure, especially at the scale you're dealing with. Work with a supplier who understands your packaging challenges and has film pre-stretch equipment to help get more out of the film you use for your wrapping application.
The right wrapper machine will help your film—and your consumables budget—stretch further. In fact, Handle It estimates that stretch equipment lowers film consumption by up to 50%.
4. Forgetting Your Footprint
Warehouse space is valuable. While a wrapper might help improve throughput, it could also end up costing you if it takes up valuable floor space or disrupts your workflow. Choose an experienced manufacturer who will help you right-size a wrapping solution for your space.
5. Buying Complex and Expensive Proprietary Parts
Many stretch wrapper manufacturers include very expensive and complex proprietary parts on their equipment that can be difficult to replace if they're no longer supported. If you're buying cut-price or used machinery, be sure that components can be sourced from the manufacturer or replaced with off-the-shelf parts.
Better still, invest in quality equipment from a reliable, established manufacturer like Handle It. We believe in affordable yet robust components in our machinery.
6. Paying for Features You Don't Need
While it's wise to plan for the future, it's easy to get talked into buying advanced features or automations that you will never need for your pallet wrapping application.
It's best to build a partnership with a reputable manufacturer who will help you match your needs and budget today while being available to help you expand or upgrade in the future as needed. Many low-cost suppliers seek only to upsell you in order to maximize their initial profits.
7. Buying Cut Price or Used Equipment
It can be tempting to try to save money by buying cut-price or used pallet-wrapping equipment, especially if you consider this to be 'non-specialized" equipment.
While you may book some big savings initially, you might be surprised by the time and money required to support your equipment in the absence of a solid warranty, reputable after-sale support network, or readily available parts.
8. Not Checking Lead Times
In today's just-in-time delivery environment, failing to check when your equipment will actually arrive can cost you dearly in terms of missed deadlines, unexpected bottlenecks, or idle production lines.
Smaller suppliers and unaffiliated dealers will often overestimate their ability to deliver, especially if they are sourcing from foreign-based manufacturers. Choose a manufacturer with the ability to deliver on their promises.
What to Look for in a Stretch Wrapper Manufacturer
It can be tempting to choose cheaper equipment for an "end-of-line" solution like a stretch wrapper, but choosing the cheapest machine on the market can be costly over time.
It's important to consider the fair market value of the equipment you are investing in. While it's possible to overpay for features or capacity you simply don't need, failing to invest in quality equipment that matches your current and future needs can cost you more down the line.
Here's what to look for in a stretch wrapper manufacturer who will deliver long-term value and measurable return on investment.
Durability
Reputable stretch wrapper manufacturers like Handle It provide durable equipment designed to withstand the rigors of the toughest shop floors year after year. Our wrapper machines are designed and engineered in Europe and assembled in the U.S. from high-quality components.
Handle It's ISO 9000-certified wrapping machinery is trusted by manufacturers and distributors across the U.S. to wrap and secure even the heaviest and most challenging pallet loads.
Capacity
Stretch wrapper capacity is not just about weight. While you need equipment that can handle your heaviest loads, you also need workflow integration capable of wrapping and moving pallets faster and with fewer hands.
Handle It offers wrappers with the ability to handle pallet loads of 4,400lb or more and fully integrated solutions able to process up to 100 units per hour. We have the right turntable, rotary arm, and conveyor solutions you need to ensure your pallet wrapping process never holds you back.
Efficiency
You might be surprised how much efficiency the right stretch wrapping solution adds to your process, reducing individual handling time by at least 50% compared to manual wrapping.
Handle It can help you identify a machine that:
Increases pallet throughput
Boosts average pallet capacity
Reduces film consumption
Trims labor costs
Minimizes line downtime
Customization and Accessories
Leading suppliers like Handle It are also capable of delivering customized solutions that unlock even more value from your process. These include (on selected models):
Integrated variable film power pre-stretch to maximize film coverage
Automated film cutting to minimize waste
Integrated scales and label makers
Extended wrap mast height
For the most advanced warehouses, we also offer our 3000 Series Mobile Robotic Stretch Wrap Machine for fully automated wrapping anywhere in your facility.
Handle It also supplies a wide range of accessories including ramps, pallet jacks, and extended frames to assist with moving pallets onto and off wrapping turntables, as well as guard railings and racks to protect your warehouse infrastructure.
Ongoing Costs 
The true benefit of working with a full-service stretch wrapper manufacturer like Handle It lies in the long-term value of the partnership. While our machines are designed to deliver years of trouble-free operation with minimal maintenance, we also offer:
Quick response, full-time tech support when required
A wide range of in-stock parts with quick shipment
Training resources and online troubleshooting videos
Three-year equipment and parts warranty (depending on model)
Resources
Still unsure if Handle It is the right stretch wrapper manufacturer for you? The following resources may help:
Products. Parts. Reputation. It's a Wrap.
The right stretch wrapping solution can unplug warehouse bottlenecks and release hidden efficiencies and value in your workflow.
At Handle It, we have the high-quality, robust equipment you need as well as the parts, knowledge, and experience to support you for the long term.
By choosing Handle It as your partner for stretch wrapping solutions, you'll gain:
Fully automated pallet handling solutions that reduce costs and increase productivity
Improved load containment, product protection, and safety
A high-quality stretch wrapping solution that's right-sized to your needs
Top-notch customer service including technical support, training, and parts
Contact us today to find out how Handle It can help you unlock the value and efficiency of stretch wrap automation.
Contact a Stretch Wrapper Expert
BACK