Fully automatic stretch wrappers save time, money, and will add immense value to your high-volume shipping department. Remote control, power pre-stretch, and auto film cut are just a few of the many features that will help improve efficiencies.
At Handle It, we often get asked about the key differences between our popular Model 1100AA-C versus the Lantech Q300XT. Read on to learn more about the differences and similarities between these two automatic pallet wrappers.
Handle It 1100AA-C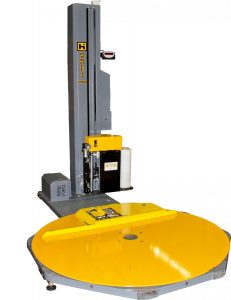 The Model 1100AA-C is a top-of-the-line automatic pallet wrapper that's ideal for wrapping up to 300 loads per day. It offers a wealth of features and benefits, such as:
Production rate of two minutes per pallet
86" max wrap height (118" extended height available)
The (standard) remote control, hot weld seal, and auto film cut means that the driver never leaves the forklift
Electronic film tension with up to 250% pre-stretch. Optional 600% stretch feature available
4,400lb maximum load weight capacity
3-year warranty
The Model 1100AA-C has easily adjustable parameters such as starting wrap height, bottom wraps, top wraps, film tension, and carriage ascent & descent speed. Six working cycles helps to ensure complete shrink wrap coverage of your loads:
Ascent/descent
Topsheet
Only ascent
Only descent
Layers
Stack
One of the key differences between the two models is that the Lantech Q300XT is a mechanical machine, and the timing can get worn out. The 1100AA-C instead has a rack-and-pinion drive, heavy-duty carriage rollers, and self-lubricating turntable bearings that offer improved reliability.
Lantech Q300XT
The Q300XT is Lantech's high-end model offering. It can wrap 30-40 loads per hour and offers a 200% power pre-stretch and several other features that allow complete pallet wrapping automation. However, the remote control feature is optional, whereas it comes standard on the 1100AA-C.
When it comes to securely wrapping pallet loads, the tail end treatment of the wrap cycle is of utmost importance. The Handle It Model 1100AA-C has a standard roped bare tail treatment, which forms the tail end of the shrink wrap into a very strong rope and then seals it to the load. The Q300XT only offers this feature as an option.
Unlike the Model 1100AA-C, which utilizes a 110-volt outlet, the Lantech Q300XT requires 120V, 20 Amp. If your shipping area doesn't support a 120V 20 Amp, this could require additional expensive electrical work.
Comparison Chart
| Specs | Handle It 1100AA-C | Lantech Q300XT |
| --- | --- | --- |
| Load Capacity | 4,400lbs | 4,000lbs |
| Wrap Cycles | 6 working cycles and 32 end-user programs | Unknown |
| Electronic Film Tension Control | Yes | Yes |
| Variable Tension Control | Multiple tension levels throughout the cycle | One tension setting through entire wrap cycle |
| Remote Control Standard? | Yes | No |
| Optional Equipment | Extended Max Wrapping Height 118″, loading ramp, integrated scale | Extended Max Wrapping Height 110″, Loading ramp, integrated scale  |
| Turntable Diameter | 71" | 65" |
| Standard Pre-Stretch | Up to 250% | Up to 300% |
| Wrap Height | 86"  | 80" |
| Photo Eye | Yes | Yes |
| Machine Dimensions (LxWxH) | 113″ x 71″ x 121″ | 120″ x 67″ x 93″ |
The Handle It Model 1100AA-C Advantage
The Handle It Model 1100AA-C offers more useful features than the Lantech Q300XT and will allow you to streamline your packaging operations while improving efficiencies.
The user-friendly PLC control panel, a wide array of wrap cycle parameters, 250% power pre-stretch, and the onboard automatic system helps to ensure a consistent, secure, and quality wrap.
Check out our line of semi-automatic and fully automatic turntable stretch wrappers, or contact one of our friendly experts to learn more.
BACK