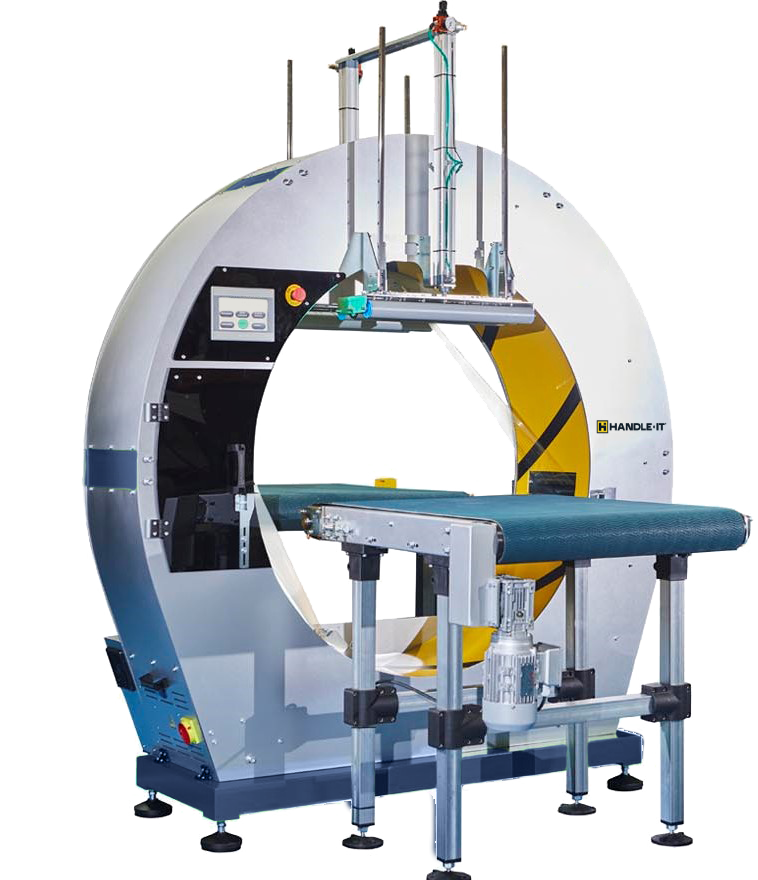 Handle It has a well-deserved reputation for our competitively priced, high-quality, and durable stretch wrappers. We proudly continue that tradition with our three new lines of orbital wrapping machines to streamline your packaging operations.
Orbital wrapping machines can wrap products better and quicker than manual labor and are ideal for products that are long, flat, bundles, or even full pallet loads. Read on to learn more about the value, features, and benefits you can expect from our three new types of horizontal wrap machines.
Why Use an Orbital Wrapper?
We designed our three new types of orbital wrappers to ensure maximum performance and increased efficiency over wrapping your products by hand. Our horizontal bundling machines are available in different sizes and configurations.
Using an orbital wrapper offers many advantages over manually wrapping your products:
Save time—Compared to hand-wrapping products, orbital wrappers save tremendous time. Orbital wrappers don't call in sick, get distracted, or slow down toward the end of the work day. Our smallest models SA-50 and FA-50 spin at up to 180 rpm! Even our large units like the SA-200 rotate twice as fast as some of the competition.
Cost-effective—Orbital wrappers use allow you to apply as much or as little film as need, whereas wrapping products by hand can lead to wasteful overwrapping that adds up in the long run. It l
Consistent wraps—Wrapping odd-shaped, bulky, or long products by hand can lead to mistakes that will cause your goods to come loose during transport or storage. Orbital wrappers ensure consistent and secure wraps.
Increased safety—Workers who manually wrap pallets and goods by hand can suffer from many health and safety issues that could lead to a worker's compensation claim. Letting a machine do the hard or dangerous work helps keep workers safe.
Automation—Semi or fully-automatic orbital wrappers reduce labor costs by freeing workers' time for more critical tasks. Productivity levels will increase in your facility when you partially or fully automate the wrapping process.
Orbital wrappers are ideal for warehouse, shipping, and manufacturing environments that need their loads wrapped, grouped, and safeguarded for storage or transport. To find the perfect one for your operation, check out our three new types of machines listed below.
Semi-Automatic Orbital Wrappers
Our semi-automatic wrappers allow for horizontal product loading of varying sizes. They require an operator to manually feed your products through the machine as it packages with stretch film. However, semi-automatic machines will dramatically reduce the effort and time needed to wrap products versus doing it by hand.
We offer six different semi-automatic orbital wrappers that can fit product widths from ~19" up to ~97".
They can wrap a wide range of products, including:
Moldings
Blinds
Wood trim
Shelves
Kit furniture
Wooden boards
Furniture
Doors
Wood panels
Cabinets & windows
Bulky products
Panel
Automatic Orbital Wrappers
Automatic orbital wrappers completely automate the wrapping process without human intervention. These machines are ideal for high-volume operations and wrapping large-sized products as they automatically thread, wrap, and cut the film.
We offer six different models allowing you to fit product widths from ~19" to ~97" in diameter. You can wrap the same products as semi-automatic orbital wrappers including firewood, flooring, furniture, and timber boards.
C-Style (C-Ringer) Round Products Orbital Wrappers
Our line of semi-automatic C-Ringer wrappers is ideal for bundling products that do not contain glass such as windows, frames, and round products. While the machines require an operator, they save tremendous time and money versus wrapping products by hand.
We offer two different models of C-Ringer wrappers that feature a ~19" to ~35" opening that can wrap smaller products, such as a hose or wire rolls to larger ones, such as windows without glass and frame structures.
Which Orbital Wrapper Is Right for Your Facility?
Handle It Orbital Wrappers offer tremendous time and money savings over wrapping your products by hand. We only use high-quality parts and we test and pre-program all of our machines before we ship them. Click below to discover the value you can expect from our stretch wrapping equipment.
Learn More About Our Orbital Wrappers Options & Benefits
BACK