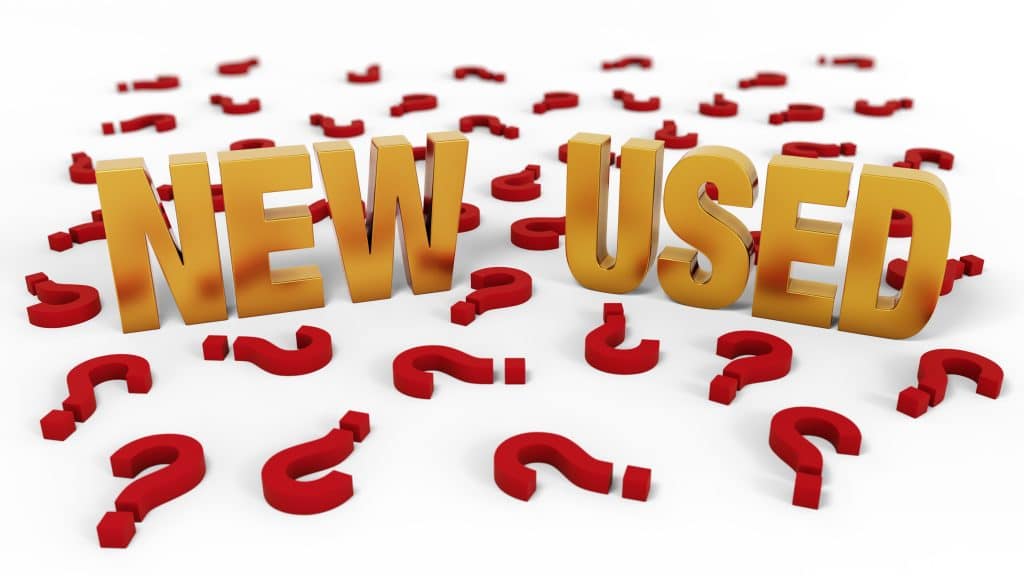 Stretch wrap machines are an indispensable part of any shipping operation. They cut down on manual labor, improve efficiency, and can reduce product loss during transportation. 
When it comes time to buy one for your facility, you can either purchase it new from the manufacturer or distributor or find someone selling a used one. 
Read on to learn more about the advantages and disadvantages of buying a new vs. used pallet wrap machine.
Used Stretch Wrap Machine
The most significant advantage of buying a used stretch wrap machine is the initial cost. Depending on the model, prices can range from 30% to 60% of a new one. For many businesses, that is a huge selling point. 
However, there are several things that you need to look out for if you're in the market for a used pallet wrap machine:
Warranty
There is a significant chance that a used pallet wrapper no longer comes with the original manufacturer warranty. Resellers sell these machines "as is" or with a very basic and limited warranty. They often buy them at auctions, take them back to their facility, plug them in to see if the buttons light up, and then list them for sale. 
The older a machine is, the more risk the buyer assumes. It becomes a guessing game as to whether or not the used pallet wrapper is nearing the end of its lifespan and exactly how well the previous owner took care of it.
Repair 
If your used machine were to break down, your options for repair could be somewhat limited. First, the parts need to be in stock. For many older or discontinued models, that presents a significant challenge. You might find yourself frantically searching the internet for a part that is either no longer in stock or has a long lead time.
In the event of a breakdown, you'll also need to find someone who has the experience and know-how to install the replacement parts. That can add to the overall downtime as you now have to wait for a technician to arrive on-site. 
Total Cost of Ownership
Another major factor to consider when purchasing a used pallet wrapping machine is the total cost of ownership. While you will realize immediate financial savings over a new one, the maintenance, repair, and associated downtime can quickly add up.
There's also less troubleshooting and support available for used machines. While third-party companies can service pallet wrappers, the overall costs can quickly add up above and beyond what you would have paid for a new one.
New Stretch Wrap Machines
Compared to purchasing a used machine, the only real downside to buying a new one is the price. However, that selling point is quickly negated by the advantages that buying a new vs. used one presents:
Warranty—New pallet wrappers will often come with a 2-3 year warranty, depending on the machine. This significantly helps reduce the overall total cost of ownership.
New Technology—When buying a new pallet wrapper, you're getting the latest and greatest in technology, better film efficiency, and cycle flexibility. Other innovations include:
250% Power pre-stretch carriage lowers film usage by 50% (For example, the model 1200 UL machine)
Adjustable power pre-stretch up to 600%
Advanced control panels with quick select programming, multiple cycle parameters, and diagnostics
Remote control options allow the workers to do their job more efficiently
Easier loading options
Advanced Safety Features—Older pallet wrap machines don't often come with the same worker safety features that newer models have.
Self diagnostic capabilities
Higher-end models have a sensor and machine statuses (current values)
Limit switches wired for fail-safe
Light curtain options – prevents anyone from being near the machine while it's in use
Pressure pad on higher-end models are more "accurate" than the standard design (no mechanical interference, pressure on any point triggers safety)
Ergonomic film change assistance
Electronic components and sensors are more reliable and accurate
Available Accessories—Newer machines often come with a wealth of available accessories, such as an integrated scale to quickly weigh pallet loads, a loading ramp for hand pallet jacks, and an extended max wrapping height.
Should You Buy New or Used?
The only real benefit of buying a used pallet shrink wrap machine over a new one is the upfront lower price. However, the total cost of ownership can quickly drown out any initial savings. 
At Handle It, we design and manufacture a wide range of new pallet shrink wrap machines. While we do not sell used ones, we do have a model for every application regardless of the size of your business or pallet wrapping requirements.
If you're still debating whether to get a used or new machine, perhaps there's a chance that a new one will work out better for your organization in the long run. 
To learn more, get in touch with one of our experts.
Get Help From Our Experts or Call 866-410-0463
BACK