Guard rails play an essential role in improving the safety of any warehouse or manufacturing facility. They provide safe walkways for employees, allow for the development of intelligent traffic patterns, and can easily absorb accidental impacts from forklifts and other vehicles.
If you're in the market for a new or replacement guard rail system for your company, read on for several frequently asked questions that can help you make a more informed buying decision.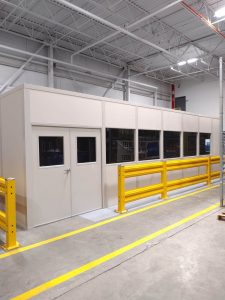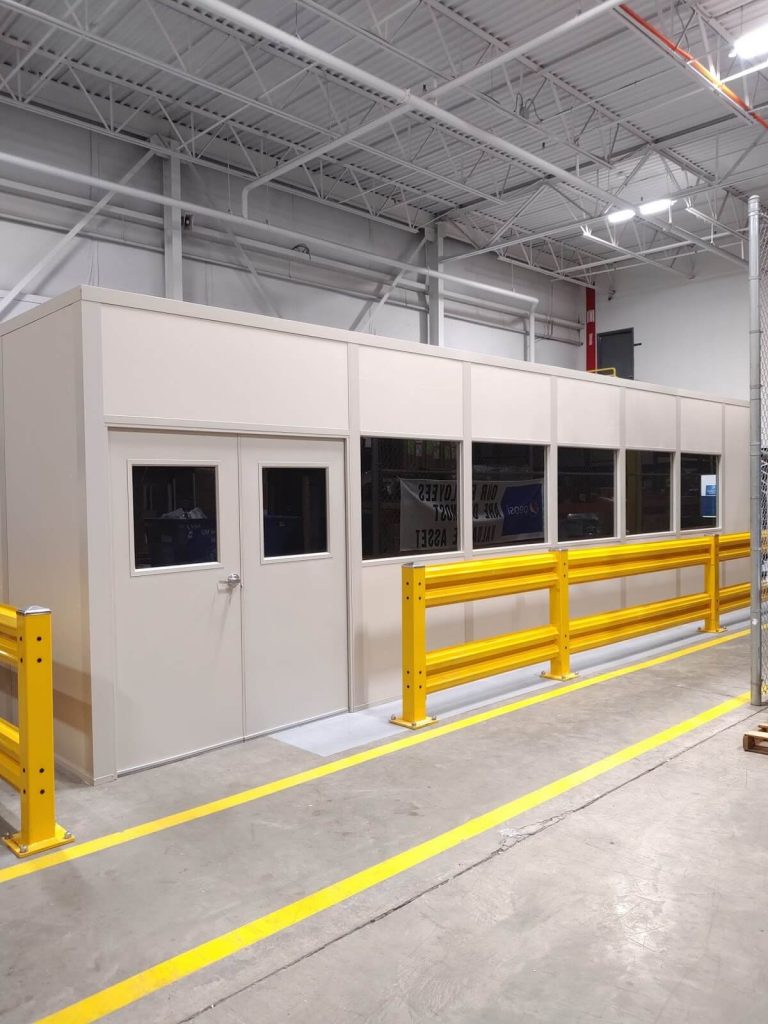 Types of Guard Rails
At Handle It, we carry a Heavy-Duty Guard Rail system that includes safety barriers and forklift guardrails. We tested it to withstand up to 10,000lbs at 4 mph. This system is ideal for providing your workers with a physical and bright yellow barrier to protect them from forklift and powered vehicle accidents.
How Tall Are the Posts and How Do the Rails Connect?
Our single high posts are 18" in height, and our double high posts are 43" in height. The rails are bolted together; however, you can turn them into lift-out rails with the optional lift-out adapters.
You can also bolt the lift-out adapters to the posts themselves, thereby allowing you to slide the rails in and out without having to bolt them in.
Can You Connect to Posts on Multiple Sides, or Do You Have to Order End Posts, Line Posts, and Corner Posts?
Our rails are what we call "four-way posts." This means that they are pre-drilled on all four sides so that you can connect rails to any size.
This makes them more versatile than end posts (holes only on one side), line posts (holes on two opposite sides), or corner posts (holes on two sides to make an L shape).
We also supply plastic plugs with every post so that you can cover up the unused holes.
Do the Guard Rails Come With Anchors?
Yes, each guard rail comes with four ¾" x 4 ¼" long wedge anchors per post.
How Is the Guard Rail Measured?
Guard rail measurements are always performed from the center of the post to the center of the post. This is a standard measurement for all guard rails.
For example, our 10' rail is not actually 120", but rather 115" because we have 5" posts. So, each half of the 5" posts added to the 115" makes up the 10'
If I Buy a Double High Post and Rail, Do I Get 2 Rails Automatically?
No, if you are getting double high posts, don't forget to order two rails in between each post.
Are the Guard Rails Rated?
Yes, our guard rails are rated to withstand an impact of 10,000 lbs of force moving at 4 mph. That means our rails will not deflect more than 6" when hit with that force moving at that speed.
Is "Guard Rail Rating" an OSHA Requirement?
There isn't a standard OSHA impact rating for guard rails. The most common industry rating is the 10,000 lbs at 4 mph, but it's not an OSHA requirement.
Does Handle It Offer Installation of Guard Rail Systems?
We offer installation through our extensive dealer network that we sell our products through. Most of our dealers will offer installation for an additional cost in addition to our guard rails.
How Much Does a Guard Rail System Cost?
A 10' section of double high guard rail usually sells for around $600, whereas a 10' section of single high guard rail usually sells for about $350.
How Long Do Guard Rails Last?
The life expectancy on guard rail varies. The more you hit it, the more likely you would have to replace it. However, that means it's doing its job.
The nice thing about a guard rail system is that it's modular in design. So, you only replace the pieces that you hit and damage.
If you have a 100' section of guard rail and you only hit a 10' section, you only need to replace that particular section.
Are There Any Alternatives to Guard Rails?
A cheaper alternative to a guard rail system is warehouse floor tape. It outlines the boundaries for forklift and pedestrian traffic.
The obvious benefit to this is the price; however, the painful downside is that floor tape does not stop a forklift from hitting a pedestrian or plant assets when it crosses the line.
Do Warehouse Guard Rails Require Any Maintenance?
No, there is zero maintenance required once installed. Set it and forget it.
Why Choose Handle It for Your Guard Rail Needs?
Handle It has over 25 years of industry experience and can provide your warehouse or manufacturing facility with dock safety and floor-mounted equipment that will protect both your workers and your expensive assets.
Our team of experts can help you find the right product you need to solve your challenges—whether it's a highly customized system or finding a solution that fits your budget.
We have a vast network of national and international dealerships that can offer additional support, regardless of your physical location. We proudly stand behind our products and offer a one or two-year limited warranty on all materials and workmanship.
Choosing the Right Guard Rail System
We hope we've provided you with answers to some of the more commonly asked questions about warehouse and manufacturing facility safety rail systems. If you'd like to learn more, contact us today.
Learn More About Our Guard Rails
BACK